Pipeline protest takes over Victoria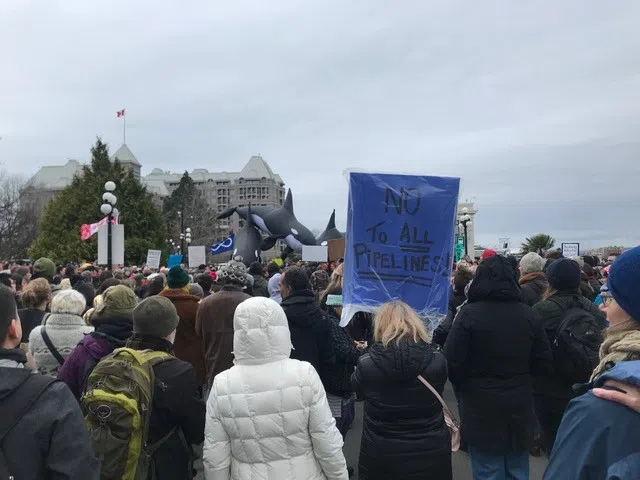 Hundreds gathered in front of the B.C. Legislature before marching downtown on Monday as part of a planned international protest of an LNG pipeline project in Northern B.C.
Protesters are gathering in Vancouver, Victoria and in many cities across B.C. and Canada to support the Wet'suwet'en First Nation battle against a natural gas pipeline through its territories.
Demonstrations are also being held in a number of U-S cities from Bellingham to New York and organizers say rallies have even been held in a number of European locations.
"We demand that the provincial and federal government uphold their responsibilities to the United Nations Declaration on the Rights of Indigenous Peoples and 'Anuc niwh'it'en (Wet'suwet'en law)," said protestors in a release.
First Nations says TransCanda does not have permission from hereditary chiefs on Wet'suwet'en territory as preliminary work gets underway on a pipeline carrying natural gas from northeastern B.C. to Kitimat.
Fourteen people were taken into custody yesterday at a blockade southwest of Houston, B.C.  A move that is infuriating First Nations across the country.
Hundreds out in front of the BC Legislature protesting pipeline project in Northern BC. #cdnpoli #bcpoli pic.twitter.com/keSWQKf9Zk

— Art Aronson (@ArtAronson) January 8, 2019