Freddie Mercury: The Greatest Frontman Ever, According To Axl Rose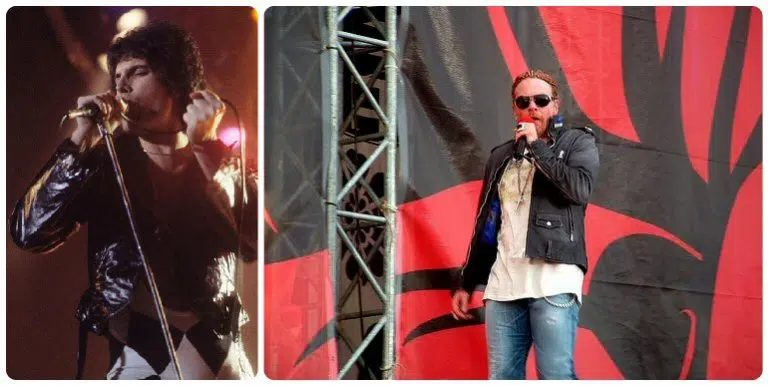 If you ask one of the greatest frontmen ever who he considers to be the greatest frontman ever, he won't have any trouble coming up with an answer. Axl Rose says that in his opinion, Queen and Freddie Mercury were respectively the greatest band and frontman of all time.
You'd probably find a hen's tooth before you'd get a chance to chat with Rose, but before Guns N' Roses played an Abu Dhabi show which had to be cut short due to Rose's illness, he did a bit of beaking with local Atlas hacks. When he was asked about his favorite frontman, he said, "For me, it's easy – Queen is the greatest band and Freddie is the greatest frontman of all time. The band are the greatest because they embraced so many different styles."
He also gave a shoutout to the Big Apple: "New York will always be special for me. When we were in LA we were playing the Hollywood club scene, but New York is where we wanted to be. We have done so many performances there over the years – the city holds a lot of memories."
Rose is no stranger to the music of Queen: he performed Bohemian Rhapsody with Elton John and Queen at the 1992 Freddie Mercury Tribute Concert.
Meanwhile, back in September, Slash said that the band are working on a new album, and indicated that Rose had "a ton" of songs ready. Guns N' Roses will wrap up their 2018 tour with their first-ever concert in Hawaii on Sataurday December 08.
Axl Rose image: en:User:BertieBasset [Public domain], from Wikimedia Commons
Freddie Mercury image: https://weheartit.com/entry/58777168 [CC BY-SA 3.0 (https://creativecommons.org/licenses/by-sa/3.0) or GFDL (http://www.gnu.org/copyleft/fdl.html)], via Wikimedia Commons
---
Love, Dr. Scott James

Subscribe to Scott's Now posts via RSS

Report An Error Or A Typo