The Full Bohemian Rhapsody Wembley Set Recreation Runthrough Could Be A Bonus Feature On The Home Video Release And Did You Spot That Other Queen Guy's Cameo?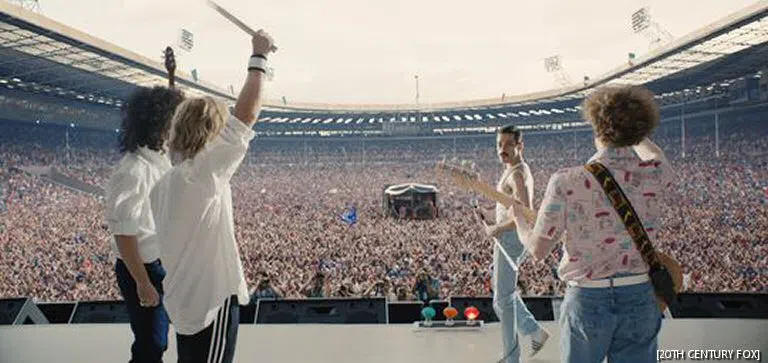 Note: There's a possible minor spoiler at the end of this story.
The cast of the Queen/Freddie Mercury biopic Bohemian Rhapsody have revealed that the first thing they shot for the film was a complete runthrough of Queen's six-song Live Aid performance — and that sequence could see release as a standalone feature.
Bohemian Rhapsody, Radio Gaga, Hammer To Fall, Crazy Little Thing Called Love, We Will Rock You and We Are The Champions comprised the band's 20 minute set at the old Wembley Stadium in London on Saturday July 13 1985. The cast performed all six tunes on an awe-inspiringly authentic recreation of the Wembley stage, and the results were spliced together for the film's denouement.
Rami Malek, Gwylim Lee, Ben Hardy, and Joseph Mazzello have now said that there's a full length version of that set under construction, and it could be included as a bonus feature for the film's home video release. Says Malek, "We did the entire concert together. That's when we felt at our best. You need to go from one song to the next to have that same adrenaline rush that they had. We had an audience of Queen fans out there recreating that iconic concert and it's an adrenaline rush like you could never imagine."
Lee, who portrays Brian May, adds, "I remember every time watching it just being mesmerised by the whole thing but particularly Freddie's ability to engage 70,000 people at once. I remember the buzz of watching that footage on my little computer screen, studying, and then being on set that was perfectly replicated. Looking around and seeing everybody in full costume and make-up, seeing the incredible attention to detail … it was quite a surreal moment."
Malek says that the full concert has "just been cut", and "we're going to get to see it soon and then you will too."
Meanwhile, Lucy Boynton clapped back at all the pearl-clutching about so-called "straightwashing" in the film's trailer, which appeared in May. The teaser prompted writer and producer Bryan Fuller, who doesn't seem to know how to spell the title of the film, to fire off this:
ANYONE ELSE MILDLY ANNOYED (enough to tweet about it) THAT THE #BohemianRapsody TRAILER FEATURES GAY/BI SUPERSTAR FREDDIE MERCURY FLIRTING WITH AND TWIRLING WITH A WOMAN BUT NO INDICATION OF HIS LOVE OF MEN?

— Bryan Fuller (@BryanFuller) May 15, 2018
Boynton called the criticisms "frustrating", considering they were generated by "a 60 second teaser which is supposed to tease basically nothing," she said. "It's when people want to have something to criticise that is kind of jarring, especially because it does and the one thing that we're so proud of with this film is that I don't feel it ever steps over the line into any kind of expose or intrusiveness. "I don't know what people wanted to see in terms of … they always ask about the darkness of Freddie and such and it's like, it's a celebration and ode to [him]."
*POSSIBLE SPOILER ALERT*
Queen's most recent frontman makes a blink-and-you'll-miss-it appearance in the film. As Freddie talks to his then-fiancée Mary Austin (played by Boynton) on a truck stop pay phone during Queen's first North American tour, a truck driver hops out of an eighteen wheeler and heads into the restroom, apparently waiting for an encounter. That trucker is none other than Adam Lambert.
Bohemian Rhapsody was expected to earn about $US45 million on its opening weekend, but raked in $50 million, which makes it a box office champion, my friend.
Sorry, I'll show myself out.
---
Love, Dr. Scott James

Subscribe to Scott's Now posts via RSS

Report An Error Or A Typo