Pink Floyd drummer Nick Mason plans tour in 2019
but don't expect "Comfortably Numb" or "Another Brick"
Oct 31, 2018
Ryan & Heather
Floyd drummer Nick Mason is planning to tour North America next year to perform some classic Floyd songs. But don't expect Comfortably Numb or Another Brick in the Wall.
"I really wanted to find something different and a bit quirky," Mason told The Associated Press. "I think, for me, what's most interesting is to revisit the thinking behind some of these pieces."
Mason plans to dig deep into the Pink Floyd archives to help perform deep cuts from the band's library. Nick Mason's Saucerful of Secrets will be jamming to pre-"Dark Side of the Moon" material.
Nick Mason's band has announced tour dates including March 12, 2019 at Queen Elizabeth Theatre in Vancouver.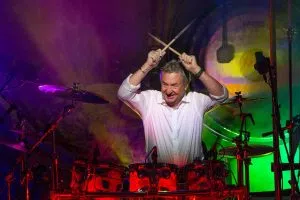 The band includes Spandau Ballet guitarist Gary Kemp, longtime Pink Floyd touring bassist Guy Pratt, guitarist Lee Harris and keyboardist Dom Beken. They formed this year in the U.K.
Mason said he's not worried that Floyd fans will turn up and expect to hear hits from such later albums as The Wall or Animals. He says word is getting out on social media making it clear what will be played.
Mason is the only member of Pink Floyd who has performed on all of the band's studio albums. He said he isn't trying to compete with Floyd alumni Roger Waters and David Gilmour or any Floyd tribute bands.
"The world is absolutely stuffed with Pink Floyd tribute bands, let alone Roger and David. So I think it's very important to say, 'This is not version No. 297. This is something a bit weird and a bit different.'"