B.C. Ferries to try accepting debit cards on board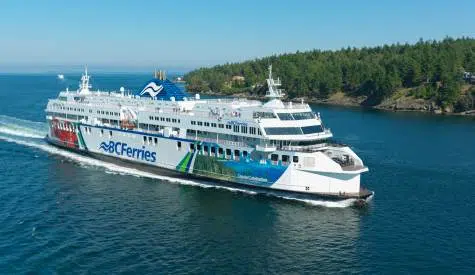 Many Vancouver Islanders are going to love this news.
B.C. Ferries is trying out accepting debit cards on board vessels for a two-month trial basis.
Starting Thursday, on board the Spirit of B.C. and other vessels travelling between Swartz Bay and Tsawwassen they will accept the interact cards.
B.C. Ferries thinks it has finally attained a level of WiFi connectivity that allows debit services to operate on sailings without failure.
Debit cards though still won't be accepted at the vehicle booths.
Once the two months is over, the corporation with assess and make a further decision.
#BCFHeadsUp
This week we're starting a trial of accepting debit cards onboard vessels travelling between #Tsawwassen & #SwartzBay 🤗. We're live on the Spirit of BC & remaining vessels on this route will be all systems go on their first sailings tomorrow #BCFerries ^kb pic.twitter.com/6AqfJMgw7z

— BC Ferries (@BCFerries) October 17, 2018