musicians react to the death of Seattle's Paul Allen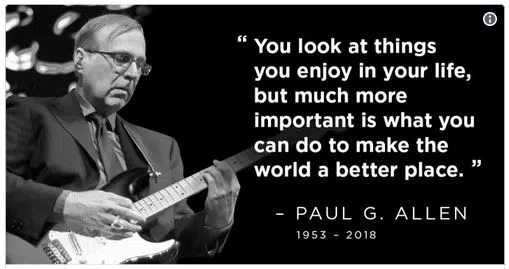 Oct 16, 2018
Ryan & Heather
The music industry has paid tribute to Microsoft co-founder Paul Allen, who died at 65 on Oct. 15
Allen founded Microsoft with Bill Gates in 1975, several years after the two met as students at school in Seattle. Allen left the company in 1982 after he was diagnosed with Hodgkin's disease.
He was an investor, entrepreneur and philanthropist, influencing technology, science, sports and music.
He established Seattle's Museum of Pop Culture, formerly known as Experience Music Project. A lifelong Jimi Hendrix fan, Allen was also recognized as a talented guitarist.
RIP to my dear friend (& killer guitar player) Paul Allen. Your genius & generosity has & will forever be felt by mankind.

— Quincy Jones (@QuincyDJones) October 15, 2018
RIP @PaulGAllen . All of Seattle feels for your family and loved ones. You were so damn good to our city, and a force in this life.

— Duff McKagan (@DuffMcKagan) October 16, 2018
Our founder let us fly with super heroes. He showed us that we could create beautiful music of our own. He inspired us to look to the stars. Today we mourn the passing of @PaulGAllen pic.twitter.com/0hJ9ZlPBh2

— MoPOP Seattle (@MoPOPSeattle) October 16, 2018
YES sends heartfelt sympathies to the family of our friend and Microsoft founder, Paul Allen, whose amazing studios hosted YES for recent studio albums. pic.twitter.com/Bv738zFzSm

— YESofficial (@yesofficial) October 16, 2018
I am so sorry to hear this!!! Thank you Paul for your generosity towards myself and Darbury. Thank you for the wonderful monument of @MoPOPSeattle for Seattle Music. You built Seattle into a great city. Rest In Peace. https://t.co/s88R4Wo824

— Krist Novoselić (@KristNovoselic) October 15, 2018
damn…lost a friend we needed …Paul Allen …smart , decent man , ..good guitar player…funder of science …saver of elephants …A fine man

— David Crosby (@thedavidcrosby) October 16, 2018
R.I.P.
Paul Allen
He was rich
But He Could Play.
😞

— Vernon Reid (@vurnt22) October 15, 2018
I just lost a dear, brilliant, talented friend of two-plus decades. His real legacy will be the ongoing brain research he has supported. But he also rocked on guitar! Goodbye, Paul Allen.

— Harry Shearer (@theharryshearer) October 15, 2018