The Proud Sons: Upholding Your Right To Expect Good Music And A Good Time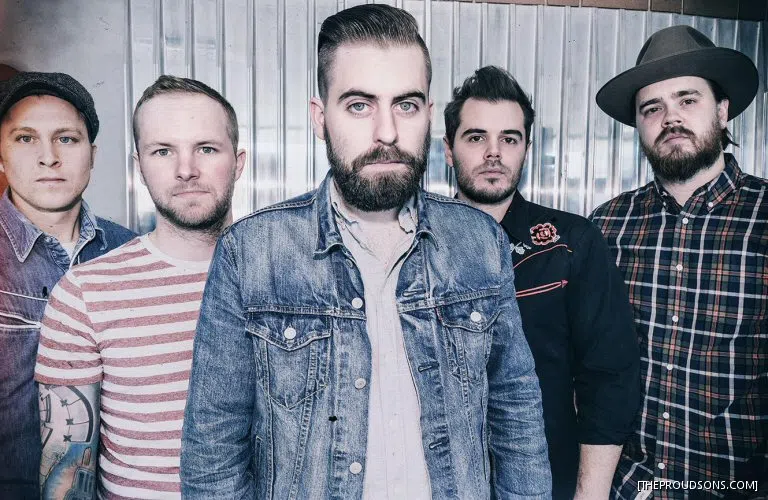 Winnipeg's Proud Sons are just trying to do justice to their name, and that name has a lot of weight behind it: the five piece outfit named themselves after a vow to make their members' late fathers proud. So far, those who are lucky enough to hear them agree that they're up to the task.
The band's four-part harmonies channel Laurel Canyon in the 60s, there's a bit of a 70s southern rock tinge as well, and their lyrics evoke the time honored themes of legendary R&B and country tunes. Thus, the tracks on their self-titled four-song EP would be just at home on a mixtape among Chris Stapleton and The Wild Feathers as they would with Eagles, Stones and Black Crowes.
A pilgrimage to a legendary birthplace of time-honored songs early in their career put an indelible stamp on the band and their music. The destination for that working trip was Sun Studios in Memphis, where Carl Perkins, Howlin' Wolf, and B.B. King began their ascensions — and it turned out to be essential for The Proud Sons. "We did our first demo EP there at Sun Studio," says drummer Jay Mymryk. "That's the same studio where Elvis and Johnny Cash got their start. We also went to Graceland."
"I think that trip gave our band a bit of an identity," adds lead singer Ryan McConnell. "That was a bucket list thing."
"It's kind of a throwback to older sounding rock 'n' roll music, but it sounds new," says McConnell. "There's four of us that sing all the time so there's four-part harmonies in every song. We go with a vintage vibe in terms of songwriting and arrangement. We're just trying to be real. There's nothing we've done that we can't go and replicate exactly onstage. It's just very organic and raw."
The signature tune Company certainly fits that description. McConnell says that it captures "when you've just started to grow up and you realize someone in your past was probably the person you should have been with."
As well as being lifelong friends and musical companions, all of the band members have a tight bond in the form of the band's name: The Meyer brothers' father passed away before they were teens. Mymryk's father passed in 2006. One of the last things
Mymryk's father said to him was to "make him proud, son." It stuck, and it resonated not just with Mymryk, but the whole band. "We've always had that thing that we could related to each other on," says Mymryk. "That's where the name comes from."
Forget the overanalysis paralysis which bogs down a lot of artists these days: The Proud Sons are just not here for it. "Rock 'n roll music should be fun," says McConnell. "Expect good music and a good time." They'll be bringing those two things to Western Canada with League Of Wolves and The Tea Party next year. Which is as it should be.
---
Love, Dr. Scott James

Subscribe to Scott's Now posts via RSS

Report An Error Or A Typo