Weezer Get "Weird Al" Yankovic And A Bunch Of Doppelgängers On The Video For Their Cover Of Toto's Africa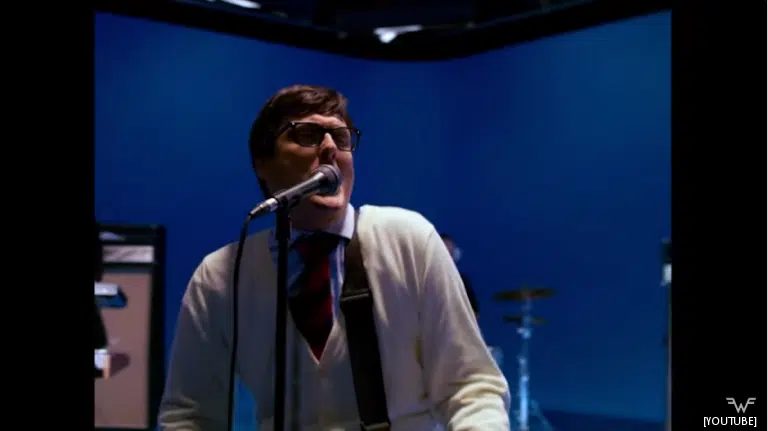 Weezer's cover of Toto's Africa was (is) a surprise hit, and the surprises just keep on comin'. If you didn't know he's in the video for the tune, you'd have a difficult time spotting "Weird Al" Yankovic: he swaps his trademark curly locks for a screwed-down haircut as he plays a Rivers Cuomo replica, with the faux-Weezer performing their version of the song, and recreating the video for The Sweater Song (Undone), in front of a television studio bluescreen. Yankovic, of course, pulls off an accordion solo.
Weezer previously got Yankovic to do a squeezebox solo when he guested on their Africa performance last month at the Los Angeles Forum, and when Weezer played it on Jimmy Kimmel Live! this summer, Toto's Steve Porcaro joined in for the solo.
Africa became Weezer's first-ever number one song on Billboard's Rock Airplay Chart, and landed them their first Hot 100 chart appearance in more than 12 years, after a grassroots campaign convinced them to cover it (after trolling fans a bit with a cover of Rosanna). Toto then responded with a cover of Weezer's Hash Pipe.  "We figured since we were smoking hash since before they were born, that's the one we should do," Toto guitarist Steve Lukather said. "This is our tribute to Weezer. God bless 'em."
---
Love, Dr. Scott James

Subscribe to Scott's Now posts via RSS

Report An Error Or A Typo