The Q Presents Colin James At Royal Theatre In March: Win Your Tickets This Week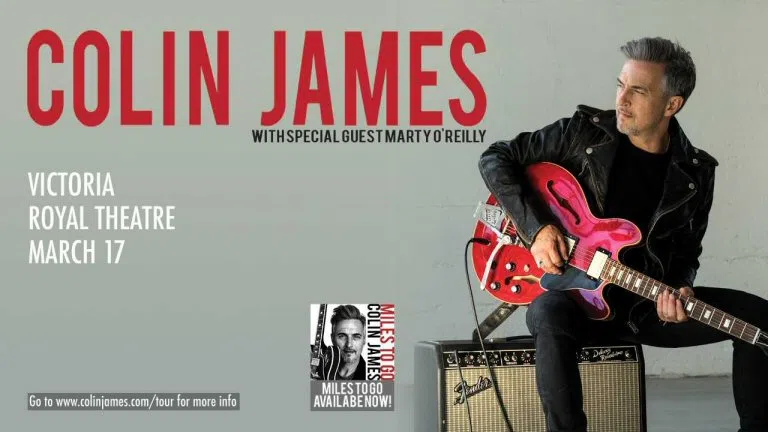 Multi-Juno and Maple Blues winner Colin James returns to Victoria Sunday March 17, as his Miles To Go Tour stops at Royal Theatre with guest Marty O'Reilly. Tickets (GST included) are $45, $59.50 and $85 plus service charges; they go on sale Saturday September 29 at 10am at the Royal and McPherson box offices, or here, or here. You can win your tickets this week (Monday September 24 through Friday September 28) on The Q Afternoon Show starring Ryan Awram and Heather Backman.
Colin's Miles To Go album, which dropped last week, is the followup to the critically acclaimed Blue Highways, and sees Colin continue his return to his blues roots. It's a collection of handpicked tunes by some of the legends, including Howlin' Wolf, Muddy Waters, Blind Willie Johnson, Blind Lemon Jefferson, Little Willie John, Robert Johnson and others, and also includes two originals, I Will Remain and 40 Light Years.
"Blues has always been a pass-it-forward kind of thing," says Colin. "It's also surprisingly hard to write. You have to be careful how modern you get in your phrasing. Certain writers can write a song that sounds like it was done 40 years ago, but it's deceptively hard. You bring what you can. If I feel like I've brought enough, then I put it out. I knocked a bunch of songs off this record when I realized that I can't bring anything to them that isn't there already. All my life I've tried to bring vitality to older songs. Hopefully my dedication to it is what floats it over the mark. That's a subjective thing; some people will always prefer the original. However, there's always a group of people coming up to see me after a show who might say, "Oh, I never would have heard 'One More Mile' by James Cotton—nothing in my life would have pointed me there."
Playing the blues comes with other niceties, too, according to Colin: "It's the only genre where you can maintain a young profile at the age of 53."
---
Love, Dr. Scott James

Subscribe to Scott's Now posts via RSS

Report An Error Or A Typo