Are Those Giant Crystal Meth Pancakes? No, It's The Breaking Bad Vinyl Box Set
It's hard to believe that Breaking Bad is celebrating its tenth anniversary, but here we are — and to mark the occasion, a whole lot of the music which was featured during the show's five seasons has been assembled for a five LP, vinyl-only box set.
Breaking Bad Original Soundtrack is limited to 5,000 copies and will arrive Friday November 30. It contains five "Albuquerque Crystal"-colored 10 inch discs, each of which is nestled in a jacket which represents one of the series' five seasons. The set also features a "lift off box set with Breaking Bad logo on front with special drip-off varnish", a poster and Los Pollos Hermanos plastic ID badge, and a booklet with exclusive images and liner notes by the show's music supervisor Thomas Golubić.
The collection includes snippets of dialog and Dave Porter's score, as well as tracks from The Walkmen, Badfinger, Tommy James and The Shondells, Fever Ray and many more.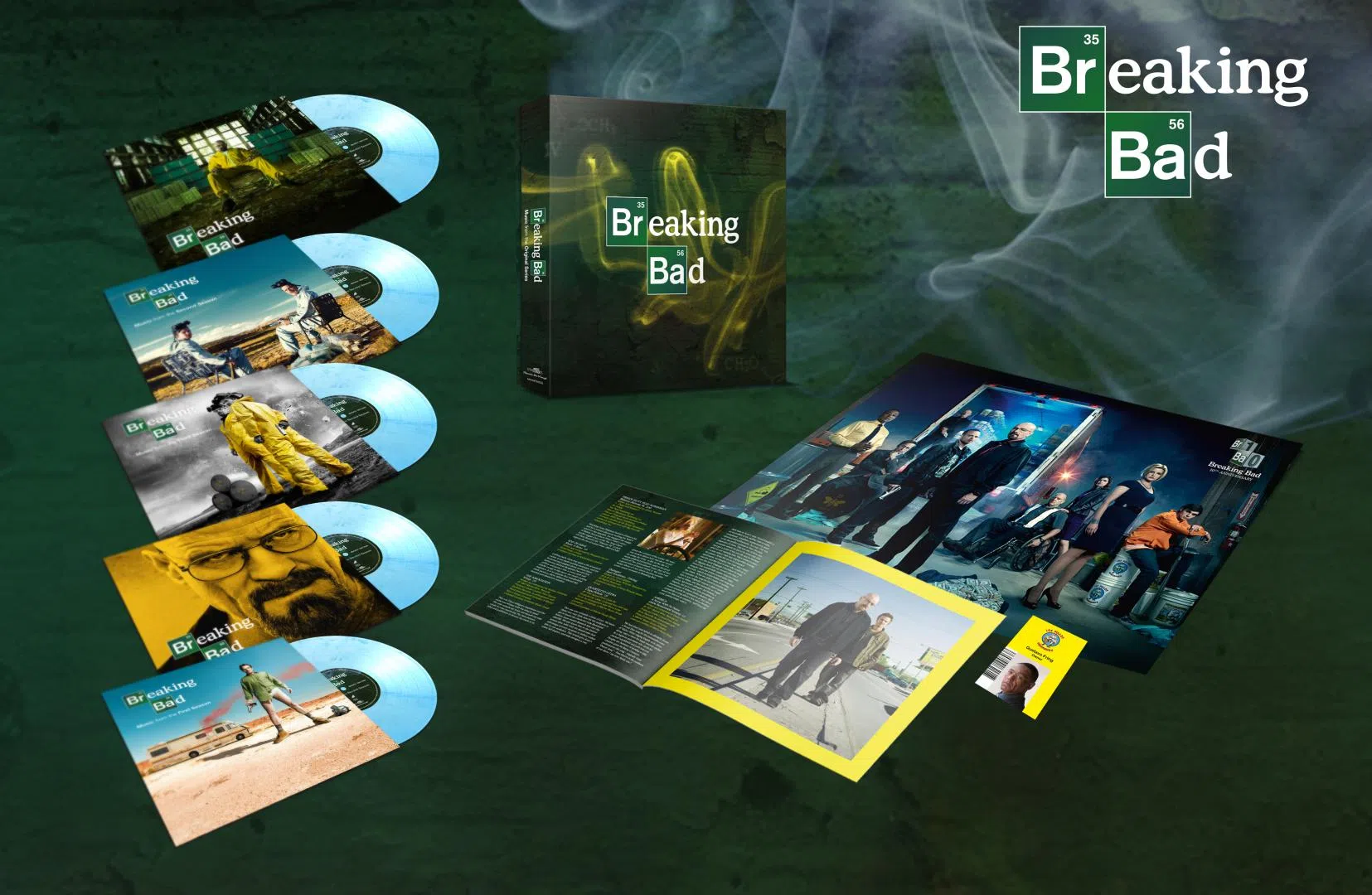 Breaking Bad Original Soundtrack Track List
Side A
Dave Porter – "Breaking Bad Main Title Theme" (Extended)
Rodrigo y Gabriela – "Tamacun"
Working For a Nuclear Free City – "Dead Fingers Talking"
Glen Phillips – "The Hole"
WALT JR. – BAND AIDS (dialogue)
Darondo – "Didn't I"
Side B
Mick Harvey – "Out Of Time Man"
The In Crowd – "Mango Walk"
Ticklah – "Nine Years"
Fujiya & Miyagi – "Uh"
SKINNY PETE – SPELLING (dialogue)
The Silver Seas – "Catch Yer Own Train"
Side C
The Walkmen – "Red Moon"
MARIE SCHRADER – SUPERMARKET (dialogue)
The Be Good Tanyas – "Waiting Around To Die"
Los Cuates de Sinaloa – "Negro Y Azul: The Ballad Of Heisenberg"
Calexico – "Banderilla"
Side D
Far East Movement – "Holla Hey"
The Black Seeds – "One By One"
Blue Mink – "Good Morning Freedom"
WALTER WHITE – PLANS (dialogue)
Yellowman – "Zungguzungguguzungguzeng"
Side E
GUSTAVO FRING – $3 MILLION (dialogue)
Chuy Flores – "Pollos Hermanos Veneno"
Los Zafiros – "He Venido"
Vince Guaraldi & Bola Sete – "Ginza Samba"
Teddybears feat. Eve – "Rocket Scientist"
Side F
Prince Fatty – "Shimmy Shimmy Ya"
Son of Dave – "Shake A Bone"
The Association – "Windy"
SAUL GOODMAN – PRICING (dialogue)
Quartetto Cetra – "Crapa Pelada"
America – "A Horse With No Name"
Side G
Alexander – "Truth"
Ana Tijoux – "1977"
SKYLER WHITE – QUICKEN (dialogue)
Bang Data – "Bang Data"
Fever Ray – "If I Had a Heart"
Side H
JESSE PINKMAN – HOSPITAL (dialogue)
Apparat – "Goodbye"
Thee Oh Sees – "Tidal Wave"
SAUL GOODMAN – SLOPPY SECONDS (dialogue)
Taalbi Brothers – "Freestyle"
Side I
Whitey – "Stay On The Outside"
MIKE EHRMANTRAUT – JESSE JAMES (dialogue)
The Peddlers – "On A Clear Day You Can See Forever"
Knife Party – "Bonfire"
Side J
Tommy James & The Shondells – "Crystal Blue Persuasion"
The Limeliters – "Take My True Love By The Hand"
HANK SCHRADER – ASAC SCHRADER (dialogue)
Marty Robbins – "El Paso"
Badfinger – "Baby Blue"
---
Love, Dr. Scott James

Subscribe to Scott's Now posts via RSS

Report An Error Or A Typo