Consider Yourself Forewarned: William Shatner's Finally Done A Christmas Album, And Just About Everyone's On It, Because Why Would They Not Be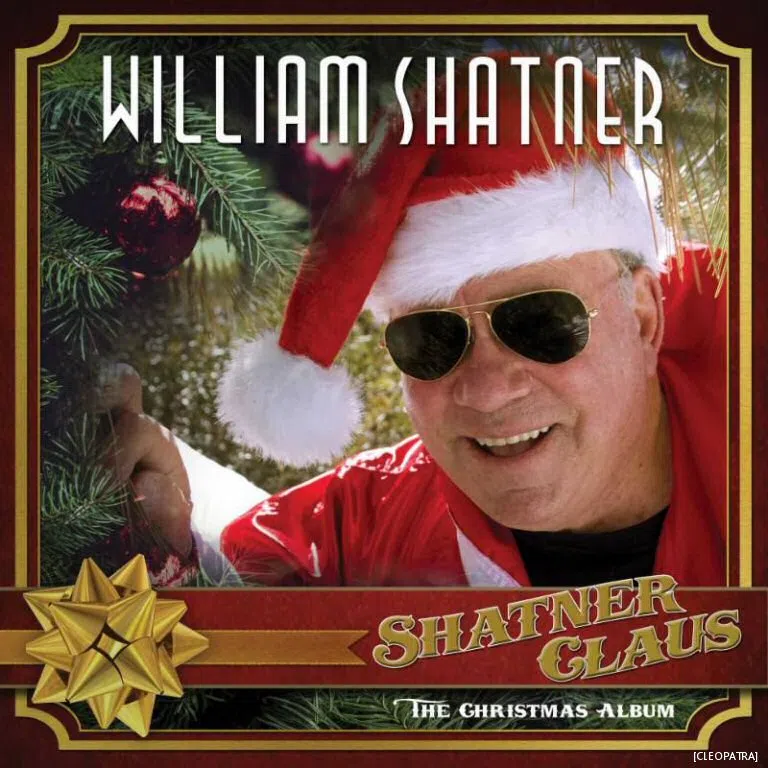 The former Captain Kirk has boldly gone where he hasn't gone before, and possibly should not have: he's done a Christmas album. And a WHOLE lot of his friends were here for it enough to appear on it with him.
William Shatner, who also formerly starred in the groundbreaking television effort $h*! My Dad Says, has reached a point in his career where he can pretty much pour the tea as he sees fit, and to hell with anyone who gives him side-eye. Last time around, he was doing Cramps covers for a Dr. Demento project. This time, it's his very first Christmas album (well, I TOLD you you were being warned), which will possibly live in infamy forevermore as Shatner Claus.
Yes, I said Shatner Claus. The line for scatalogical jokes is forming over here on your left. Thank you.
Ostensibly, the album is chock full of jokestery versions of holiday classics, on which he's assisted by the likes of Iggy Pop, Judy Collins, Billy Gibbons, Todd Rundgren, Brad Paisley, Rick Wakeman (!) and many others. Exhibit J: Bill's collaboration with Henry Rollins, which is brimming with strangely pronounced words, yelling courtesy of Rollins, thoughts about malt liquor and speed, and other things. Look out, here it comes right at you:
To quote Archie Andrews: Gak.
Shatner Claus – The Christmas Album is coming Friday October 26; it's Shatner's third release on Cleopatra Records. For further self-flagellation, please see his David Bowie covers album from 2011, Seeking Major Tom, and 2013's whatever-the-hell-it-is Ponder The Mystery.
Shatner Claus – The Christmas Album Tracklist:
01. Jingle Bells (with Henry Rollins)
02. Blue Christmas (with Brad Paisley)
03. Little Drummer Boy (with Joe Louis Walker)
04. Winter Wonderland (with Todd Rundgren & Artimus Pyle of Lynyrd Skynyrd)
05. Twas The Night Before Christmas (with Mel Collins of King Crimson)
06. Run Rudolph Run (with Elliot Easton of The Cars)
07. O Come, O Come Emmanuel (with Rick Wakeman of Yes)
08. Silver Bells (with Ian Anderson of Jethro Tull)
09. One for You, One For Me
10. Rudolph The Red-Nosed Reindeer (with Billy Gibbons of ZZ Top)
11. Silent Night (with Iggy Pop)
12. White Christmas (with Judy Collins)
13. Feliz Navidad (with Dani Bender)
14. Jingle Bells (with Henry Rollins) (Punk Rock Version)
---
Love, Dr. Scott James

Subscribe to Scott's Now posts via RSS

Report An Error Or A Typo