Look Out, United States Of America (And America's Hat): Here Comes Jesse Roper (Updated With More Shows)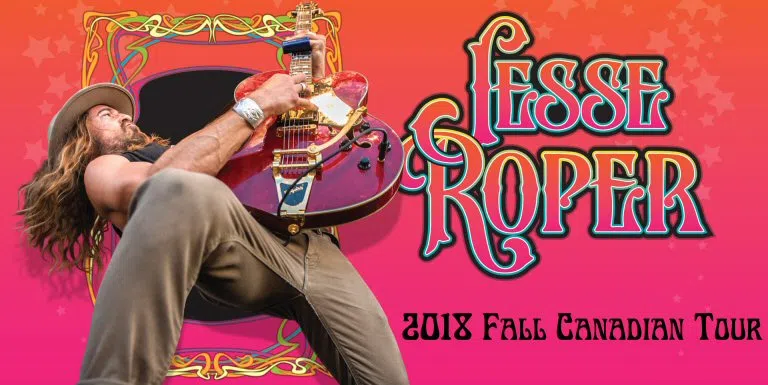 Noted possessor of feet and awe-inspiringly talented guitar guy Jesse Roper is plotting a fall tour in support of his latest album Access To Infinity. He'll be heading to the USA for a trio of dates in Washington State beginning Thursday September 20, and will kick off the Great White North leg Friday October 05 in Tofino. The trek will wrap up Friday November 16 in Niagara Falls, and includes a stop in Victoria at the McPherson, Friday October 12; that show is pretty much sold out, so a second McPherson show has been added, Saturday November 17. The presale for that one is on now.
There have been some other additions to the tour, as well. Jesse will play a free opening party in Vancouver Thursday September 06 for the Skookum Festival at the Railway Stage; RSVP to put yourself on the guest list. He'll also be part of the Outlaws & Gunslingers show on Sunday September 09 with Jim Cuddy, Crystal Shawanda, Whitehorse and others.
Says Jesse, "If I could be on the road 364 days a year I would. No joke. I feel alive when I'm on tour. It's my dream to see the four corners of this crazy planet and have music as my vehicle. I love the road and the road loves me back."
Fellow Vancouver Islanders Band Of Rascals will provide support.
The Access To Infinity Tour *Updated*
September 6       Vancouver, BC            The Railway Stage – Skookum After Dark
September 9       Vancouver, BC            Outlaw & Gunslingers – Skookum After Dark
September 20     Bellingham, WA          The Firefly Lounge
September 21     Seattle, WA                 Barboza
September 22     Port Angeles, WA        Arts & Draughts Beer & Wine Festival 
October 5            Tofino, BC                   Tofino Folk Festival
October 12          Victoria, BC                 McPherson Playhouse
October 16          Penticton, BC              The Dream Café w/ Band of Rascals
October 17          Kamloops, BC             The Blue Grotto w/ Band of Rascals
October 18          Nelson, BC                  Spirit Bar w/ Band of Rascals
October 19          Red Deer, AB              The Krossing w/ Band of Rascals
October 20          Calgary, AB                 King Eddy w/ Band of Rascals
October 23          Saskatoon, SK            Capitol Music Club w/ Band of Rascals
October 24          Winnipeg, MB             The Pyramid Cabaret w/ Band of Rascals
October 26          Edmonton, AB            The Aviary w/ Band of Rascals
October 27          Kelowna, BC               Fernando's Pub w/ Band of Rascals 
November 7        Ottawa, ON                 The Rainbow Bistro
November 8        Peterborough, ON       Historic Red Dog
November 9        Corbyville, ON             Signal Brewery
November 10      Burnstown, ON            Neat Coffee Shop
November 14      Hamilton, ON               Mills Hardware
November 15      Toronto, ON                 The Dakota Tavern
November 16      Niagara Falls, ON        Taps Brewery
November 17      Victoria, BC                  McPherson Playhouse
---
Love, Dr. Scott James

Subscribe to Scott's Now posts via RSS

Report An Error Or A Typo