Here Comes Dire Straits-ish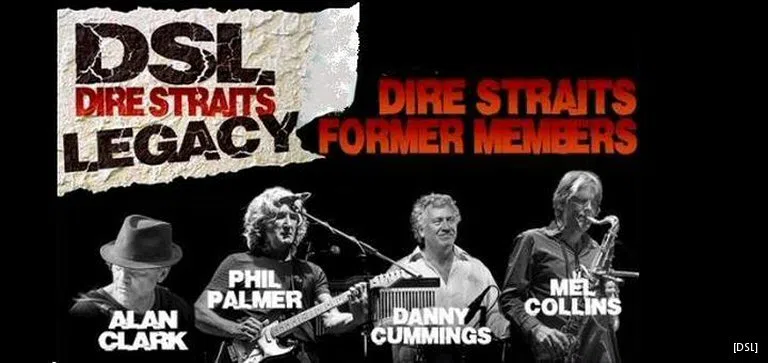 There's still not much hope that we'll ever see a rebirth of Dire Straits as we knew them at the height of their popularity: when the band were inducted into the Rock And Roll Hall Of Fame in April, frontman Mark Knopfler didn't show up, and neither did his brother and co-founder David. And although a band carrying the Dire Straits moniker (well, sort of) are about to tour behind a new album, the Knopfs won't be involved with that, either.
Keys man Alan Clark, drummer Danny Cummings, saxophonist Mel Collins, and guitarist Phil Palmer will tour this month, performing under the name DSL Dire Straits Legacy. "The DSL Dire Straits Legacy project was born from our love and respect for the music of Dire Straits, and to bring the music to fans who have been starved of hearing it played live by the musicians who made it, for far too long," Clark and Collins say in a media release. "Now, after many requests, we're coming to the US! Along with all the Dire Straits hits, we'll also be playing one or two songs from our new album 3 Chord Trick, and a couple of other tunes we've been involved with. See you there!"
The kids over at Rolling Stone report that Dire Straits bassman John Illsley (also not on board) was none too thrilled when he heard that they were initially considering using the name The Straits. "I said to them, 'If you're going to do it, will you please call it something else,'" he says. "'It would be like some people coming together and calling themselves the Stones or the Floyd. You can't really do that. You were members of the band for a while, but you don't own the name. You have no ownership. Can you please it call it something else? Call it what it is, which is basically a tribute act.' There's a lot of tribute acts. That's what happens when there's a vacuum. You just have to accept that, but I found it very difficult. It didn't last very long."
DSL Dire Straits Legacy will also feature Steve Ferrone of The Heartbreakers on drums, The Buggles'/Yes' Trevor Horn on bass, Mario Caviglia on vocals, and Primiano DiBiase on keys.
---
Love, Dr. Scott James

Subscribe to Scott's Now posts via RSS

Report An Error Or A Typo