Neil 'n Daryl (Probably) Just Got Married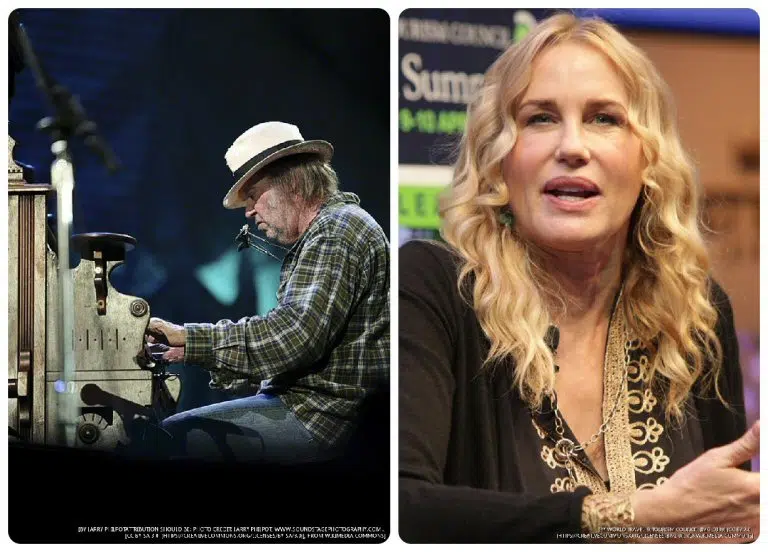 There's a bit of speculation going around as to whether it's true or not, but initial reports indicate that yes, Neil Young and his girlfriend of four years, noted mermaid Daryl Hannah, got hitched in a "shindig" this past weekend.
The Mirror was right in there with a report based on social media posts which were offering public congratulations. A sysop on an unnoficial Buffalo Springfield website had scrawled, "Congrats N & D, no word on first dance song, but it probably wasn't The Bluenotes 'Married Man'." A-henh. When queried as to whether the nuptials were actually confirmed, the admin replied "Several attendees at the reception yesterday in central CA area have confirmed. Described as a 'shindig'."
Guitarist Mark Miller wrote on his Facebook page, "Congratulations to Daryl Hannah and Neil Young on their wedding today … May they have a long and happy relationship." Hannah posted a mysterious image and message on her Instagram, ostensibly after the wedding; the comments section filled up with congratulations, including something from Rosanna Arquette: "You are the whisperer to all the animals. Birds and bees follow you and protect you. What a beautiful time of love and magic." Ed Bain also chimed in on The Q Morning Show.
Young and Hannah went public with their relationship four years ago, after Young filed for divorce from his wife of 36 years, Pegi. Hannah directed Young's film Paradox, for which he wrote the soundtrack together with his band Promise Of The Real, and in which he appears as The Man In The Black Hat.
---
Love, Dr. Scott James

Subscribe to Scott's Now posts via RSS

Report An Error Or A Typo