Sewage truck driver dies in Malahat rollover collision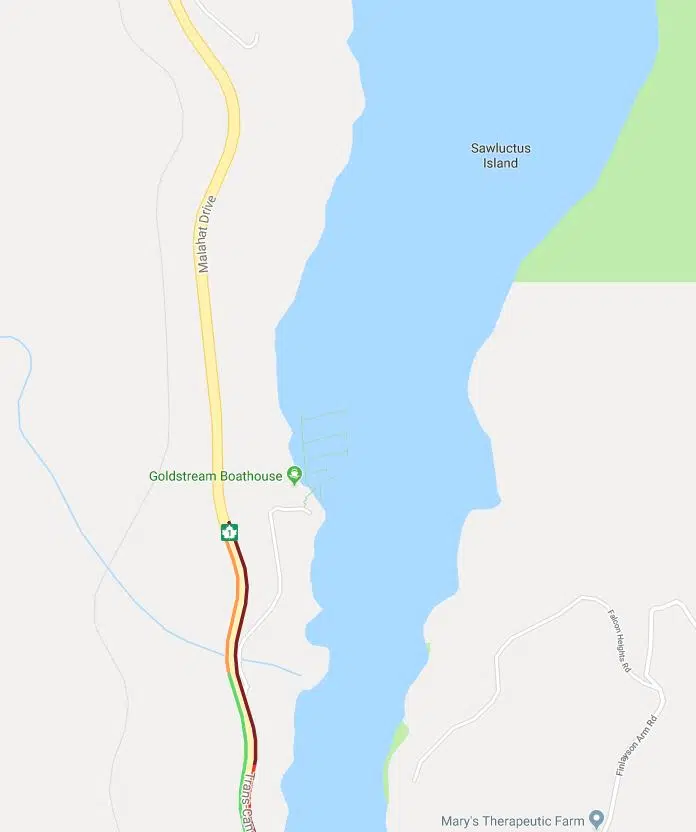 The Trans Canada Highway is closed in both directions north of Goldstream Park because of fatal motor vehicle collision on Wednesday morning.
RCMP say the driver of an overturned sewage truck died after a collision with a blue SUV just north of the Goldstream Boathouse at around 8:00am.
Emergency crews are responding to a overturned truck on #malahat. Both directions are closed. There will be delays. Updates to come as available. #yyjtraffic #yyj

— West Shore RCMP (@WestshoreRCMP) August 22, 2018
The Coroner Service has been called to the scene.
The driver of the SUV was assessed at the scene by paramedics.
West Shore RCMP says there will be lengthy delays. "The cause of the fatal collision is under investigation. The sewage spill prevents travel on the highway. We ask for patience from drivers who are affected by any delays as emergency crews deal with the closure of Highway 1," says Cpl. Chris Dovell of the West Shore RCMP in a release.
The Ministry of Transport and Ministry of Environment are assessing the hazards from the sewage spill. HAZMAT crews are expected complete the cleanup of the sewage and it is expected to take hours.
CORRECTION – #BCHwy1 is CLOSED in both directions 500 meters north of Goldstream Provincial Park because of Vehicle Incident. Assessment in progress. No detour or estimated time of opening. Next update at 10:00 AM. https://t.co/YVo6c13xVO #Malahat

— DriveBC VI (@DriveBC_VI) August 22, 2018