Victoria woman with MS attempts historic swim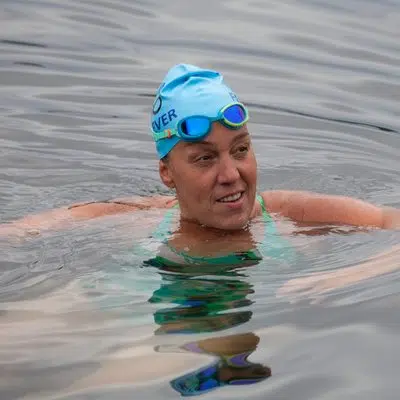 A Victoria woman with Multiple Sclerosis is attempting the first ever double crossing of the Juan de Fuca Strait on Saturday.
Susan Simmons had to cancel her attempt earlier this summer because of strong winds but says she readier than ever to go now.
"I think I have done everything I can to get me there, said Simmons. "I am swum over 1000 kilometres this summer and have put myself in 9-degree water, in big waves and windy conditions, but one never knows so I am going to give it my best go."
Simmons is an ultra marathon swimmer who uses cold water swimming as way to battle MS.
She departs from Ogden Point along with her 10-person crew at 1:00pm and will travel to Dungeness Spit near Port Angeles. Her crew is hoping it doesn't take any longer than 24 hours.
"When I am coming in, it would really help if people would cheer me on because I am probably going to be pretty tired."
Simmons says her crew is going to be taking calls and monitoring Facebook during the duration of the swim, so she can get a sense of what people are saying about her swim.
"I can tell when Victoria is cheering for me and I can feel it all the way from the states so it's good to have people monitor the swim as well."
There are only four times during the summer she can attempt it because of the tides according to Simmons.