Take That, Lenny Kravitz: Dave Grohl Unveils Full 23-Minute Play, On Which He Does It All Himself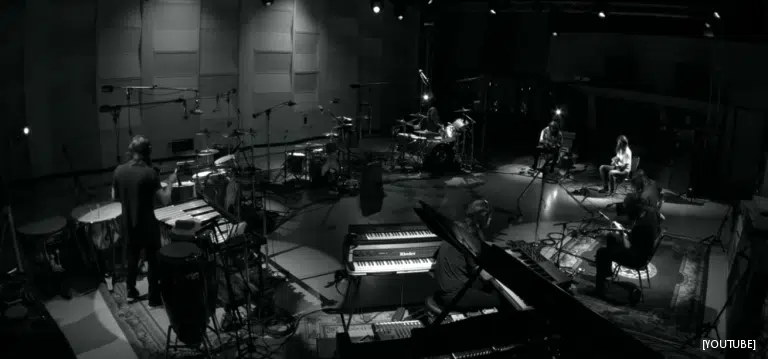 If there was any doubt that Dave Grohl is one multitalented cat, this should have the doubters hailing a taxi and getting out of Dodge.
In the two-part Play documentary, Grohl plays multiple instruments and overdubs the whole fershlugginer schmear into a 23 minute tour de force that would have Geddy's, Alex's and Neil's eyebrows doing a jig. The first thing we see is Grohl waxing philosophically on the unbridled joy of connecting with an instrument. "To any musician, young or old, a beautiful studio full of instruments like a playground," he says. "To me, I'm like a kid in a candy store. Most musicians are always chasing the next challenge; you never feel satisfied, and you never feel like you've completely mastered the instrument you're playing. It's always going to be a puzzle; it's always going to be a challenge. It's a beautiful mystery. But once it gets its hooks in you, that's when the obsession and the drive really kick in."
Next up is a visit to Join The Band, which is a San Fernando Valley music school in which the instructors get kids all learned up on how to play in rock ensembles, with students explaining how learning to play an instrument embiggens their levels of discipline and creativity.
The 23-minute extravaganza follows, with Grohl overdubbing electric and acoustic guitars, bass guitar, Fender Rhodes piano, drums (because of course), vibraphone, synthesizers, tympani and tambourine — oh, and glockenspiel — in a craftily-edited video which has multiple Daves playing together in the same room (which has a sign on the wall reading "Gave Drohl" for some reason). Watch out for NSFW talkin' in the video. Because, you know, when things don't go exactly right and you have to start again, it can be kind of frustrating.
A limited edition vinyl version of Play will be released Friday September 28. The digital version is up for download and streaming now.
---
Love, Dr. Scott James

Subscribe to Scott's Now posts via RSS

Report A Typo