Are Brian Johnson And Phil Rudd Back In AC/DC?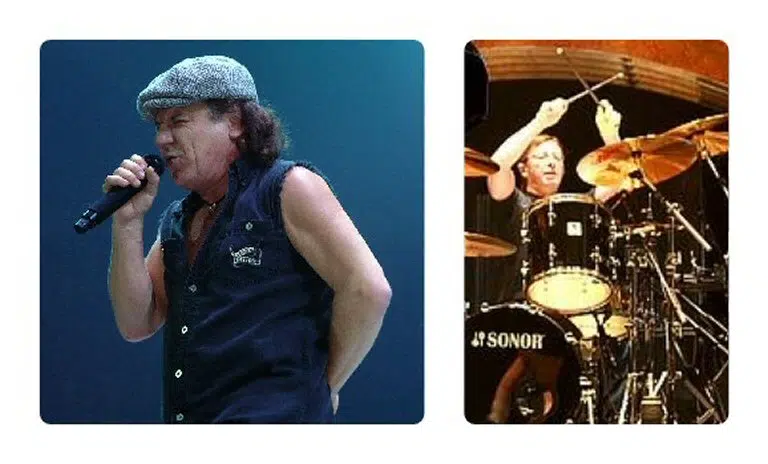 The AC/DC sitch over the past while has been nothing if not intriguing. After Brian Johnson bowed out with significant hearing problems, Axl Rose stepped in as lead vocalist. Meanwhile, drummer Phil Rudd found himself on the wrong side of the law, dealing with drug charges and even an alleged murder-for-hire, and was conspicuous by his absence from recording and touring.
Now, Vancouver's Georgia Straight has fueled rumors that Johnson and Rudd might be back in the fold, after publishing a photo of the pair outside Bryan Adams' Warehouse Studio, which is where AC/DC recorded their last three albums. Last week, the Straight reported that Rudd and Stevie Young were seen shuffling around the city.
Quoth The Straight's Steve Newton: "Vancouver resident (and hardcore AC/DC fan) Crystal Lambert has an apartment located near Warehouse Studios in Gastown, and she and longtime friend Glenn Slavens have been keeping an eye on the studio's outside deck, where various band members seemingly retreat to get some air, use the barbie, and drink coffee (or perhaps Jack Daniels) from white mugs. As you can see from the … photo, taken by Glenn two days ago, Rudd appears to be sharing a laugh with none other than Brian Johnson!"
Are AC/DC in the process of recording a new album with Brian and Phil on board? Only Angus knows for sure.
Image attribution:
Brian Johnson BY WEATHERMAN90 AT ENGLISH WIKIPEDIA, CC BY-SA 3.0, HTTPS://COMMONS.WIKIMEDIA.ORG/W/INDEX.PHP?CURID=5296512
Phil Rudd BY DOCTORACDC72 [CC BY-SA 3.0 (HTTPS://CREATIVECOMMONS.ORG/LICENSES/BY-SA/3.0) OR GFDL (HTTP://WWW.GNU.ORG/COPYLEFT/FDL.HTML)], FROM WIKIMEDIA COMMONSBY WEATHERMAN90 AT ENGLISH WIKIPEDIA, CC BY-SA 3.0, HTTPS://COMMONS.WIKIMEDIA.ORG/W/INDEX.PHP?CURID=5296512
---
Love, Dr. Scott James

Subscribe to Scott's Now posts via RSS

Report A Typo