Win Lotto Max Tomorrow, Buy Tom Petty's House, Have $CAN18,366,863.78 Left Over For Groceries 'N Stuff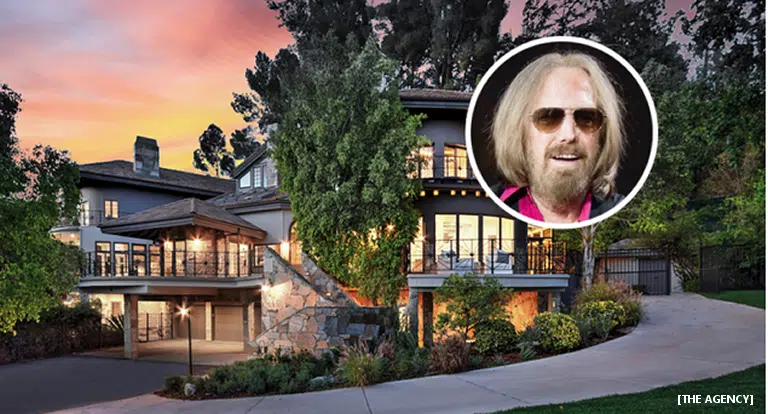 The late Tom Petty's 1068 square meter three story timber and stone mansion in Encino California, which he custom built in the late 80s following the 1987 arson fire which destroyed everything except his basement recording studio, is on the market for $US4.995 million.
Petty's ex-wife Jane Benyo acquired the six-bedroom, ten-bathroom home in their 1996 divorce, but lost it to foreclosure in 2015. The current owners have done extensive updates and renovations on the entire property, which they bought from a bank about a year ago for nearly $US2.6 million.
Here are some shots courtesy of listing outfit The Agency:
Quoth Variety:
A soaring atrium with dizzying circular staircase serves as a hub around which spoke a handful of living and entertaining spaces, including a cavernous living room under a vaulted and skylight-lined driftwood-beamed ceiling with an immense stone fireplace; a semicircular dining room; a vast kitchen with two marble-topped islands; and a family room anchored by a huge whitewashed-brick fireplace. There's also a greenhouse-style breakfast room, a windowless media lounge with wet bar and sunken seating area and a lofted office space with pint-size wet bar.

The property contains two master suites, one with an oversize sitting area, marble-tiled fireplace and marble-sheathed bathroom, the other with a morning bar, massage room and meandering, multilevel bathroom where a wall of floor-to-ceiling glass looks out on a waterfall that tumbles down a jagged rock wall. Located in what was Petty's recording studio, the pool house includes a lounge, wine cellar, exercise room and full kitchen.
Interested? Get more info here.
---
Love, Dr. Scott James

Subscribe to Scott's Now posts via RSS

Report A Typo