Deadly mushroom seen growing in Victoria area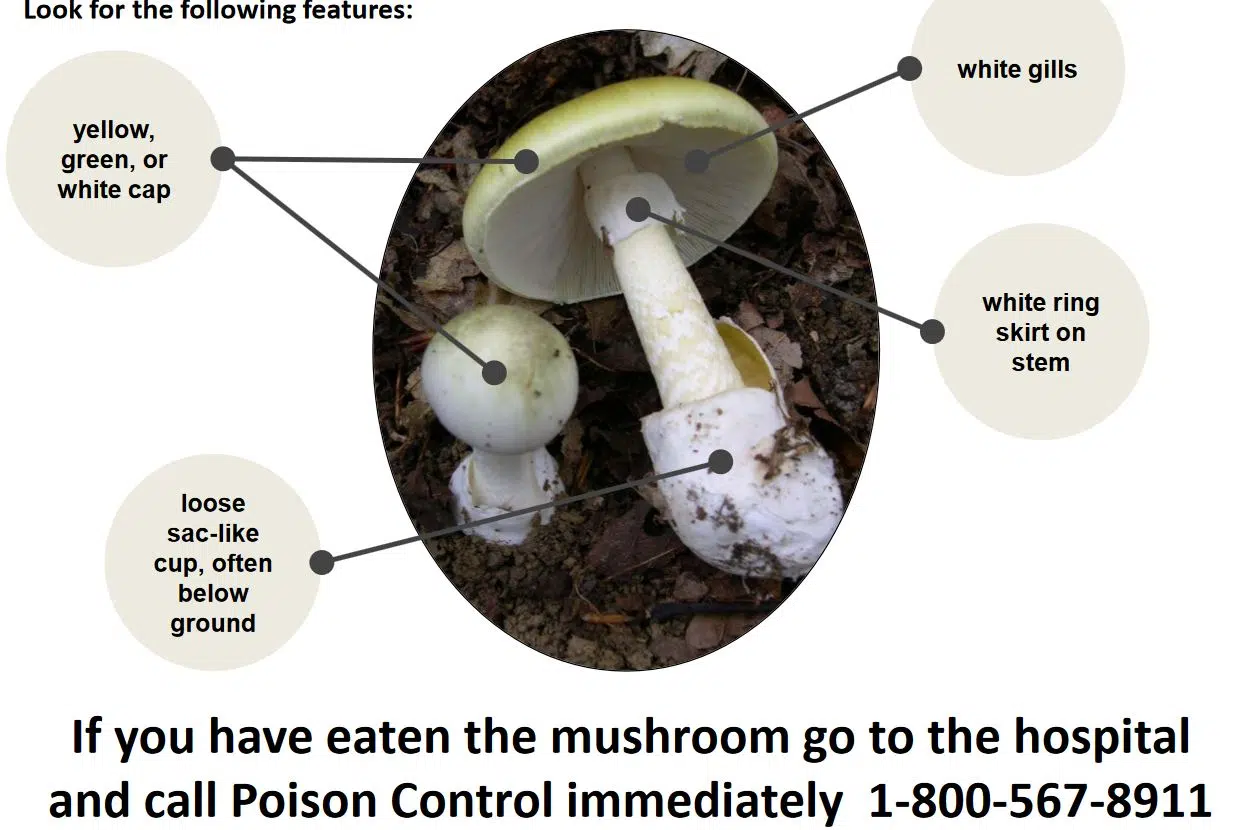 Island health says the extremely toxic Death Cap mushroom are sprouting up in Greater Victoria.
Last week the dangerous shrooms were seen growing in the Uplands and Cedar Hill areas by the South Vancouver Island Mycological Society.
In 2016, a Victoria toddler died after ingesting one of these mushrooms and they are also very toxic to pets as well.
Mushroom pickers are urged to used special precaution. Doctor Richard Standwick from Island Health says Picking wild mushrooms should be left to people with significant expertise."
Tips to stay safer while foraging for mushrooms:
If you are uncertain or unsure – do not eat wild mushrooms.
Do not pick wild mushrooms unless you are knowledgeable about local varieties of mushrooms or are foraging with a person who can accurately identify them.
If you are new to British Columbia, mushrooms may look familiar to you but are not likely to be the same.
Death cap mushrooms can be confused some edible mushrooms, such as puffballs and paddy-straw mushrooms.
If you suspect you've consumed a poisonous mushroom – go to your nearest hospital, call the BC Drug and Poison Information Centre at 1-800-567-8911 or call 911. Keep a sample of the mushroom for testing.
Facts about death cap mushrooms:
Death cap mushrooms are especially dangerous to toddlers and pets.
Illness after eating death cap mushrooms is very serious: up to 30% of people who eat a death cap will die.  Liver transplants are an often necessary life-saving procedure. Early treatment in hospital is essential.
Gastrointestinal distress (nausea/vomiting) begins about 8 to 12 hours after ingestion.  After up to 24 hours have passed, symptoms seem to disappear and people can feel fine for up to 72 hours.  However, liver and kidney damage symptoms start 3 to 6 days after mushrooms are eaten.
If you see death cap mushrooms, wear rubber gloves when removing them, wash your hands thoroughly, package them up with your regular garbage —do not compost or use the food recycle garbage bin — and remember to remove them before mowing the lawn to avoid local spread.
Unless necessary avoid lawn watering to conserve water and to suppress early fruiting of death caps.