QMS July 9 – 13
Jul 06, 2018
Graham Caddy
Win tickets to Rod Stewart this week. Be caller number 30 when we rip a Rod Stewart song.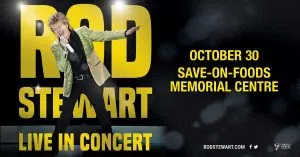 Win VIP tickets to Rock The Shores. Each morning, will ask for a random caller number at a random time to be the daily winner.
Ed's (not so hot) BBQ Sauce is back for a very limited time! Win some by vanquishing The Polka Monster at 8:15AM. Also this week, win gift cards to Wing's Restaurant.
Win gift cards to Big Wheel Burger on Money In A Minute at 7:15AM. Hear past episodes of Money In A Minute here.
The Q! Morning Show's Money Launderin' Machine goes Fridays at 8:40AM. We heave our golf balls in the dryer and give it a spin. The dryer predicts which numbers we will play in the Lotto Max for the week. Each week, all 9 of our listeners also get in the draw. Sorry, no win on the Friday, July 6th numbers.