Tragically Hip songs will name strains of 'Up Cannabis'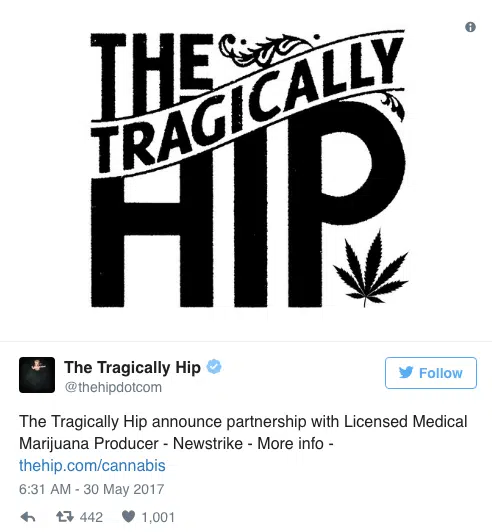 Jul 05, 2018
Ryan & Heather
A line of cannabis strains backed by members of the Tragically Hip will carry familiar song titles.
Up Cannabis investor, and Hip bassist Gord Sinclair, says the company plans to market five strains. Each will make a nod to the Hip's most popular songs.
Five strains, all named after Hip songs — Eldorado, Morning Moon, Grace, Gems, and 50MC (Mission Cap) were unveiled during a promotional event in Creemore, Ont., on July 2nd. The fifth strain, Gems, derives its name from "The Last of the Unplucked Gems," the final song off the band's 1991 album Road Apples.
Members of the Hip hold a financial stake in Up Cannabis, which means their involvement isn't explicitly considered a celebrity endorsement, like someone hired to represent the product.
Celebrity endorsements for cannabis will be prohibited when the legalization of recreational pot takes effect in Canada on Oct. 17.
Read more as the surviving members of The Hip mourn the loss of bandmate Gord Downie 8 months after his death.