Hear GN'R's Demo of November Rain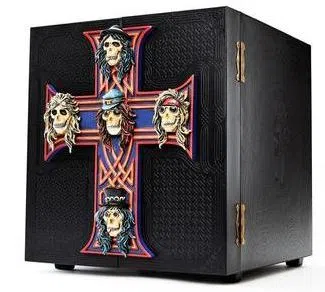 Jul 01, 2018
Megan Gibson
Guns N' Roses released the reissue of Appetite for Destruction: the Locked N' Loaded box set.
It costs $999 – don't worry though, there's a payment plan available:
One of the many previously unreleased tracks on that set is a 10 minute demo of November Rain. Have a listen below!
Also included in the Locked N' Loaded box set:
73 songs including 49 previously unreleased tracks on 4 albums
Blue Ray audio disc
32GB Metal Cross USB Stick with High-Resolution Audio Formats from All 4 CDs
12 New Illustration Lithos – Visualizing Each Song on the Album
5 Metal Band Skull Face Rings
5 Metal Band Skull Face Lapel Pins
5 Metal Guitar Picks with Band Skull Faces & Signatures
5 Previously Unseen Band Member Lithos
5 GN'R Logo Buttons
Robert Williams Painting Litho 12"x24"
Replica '85/'86 Gig Banner 27"x40"
"Welcome To The Jungle" Video Invite Flyer – Originally Drawn by Slash
Turntable Mat
Microfiber Vinyl Cleaning Cloth
7-inch Large Hole Adapter
6 Replica Early Years Gig Flyers
6 Iron-on Stitched Logo Patches
2-inch Collectable Coin
Bandana with Silver Metallic Ink
2 Wall Posters 24"x36"
Temporary Band Member Tattoos
3 Replica Ticket Stubs
Numbered Certificate of Authenticity
Read more about it here. ~Megan