Bad Wolves Present Check For $250,000 To Family Of Late Cranberries Singer Dolores O'Riordan.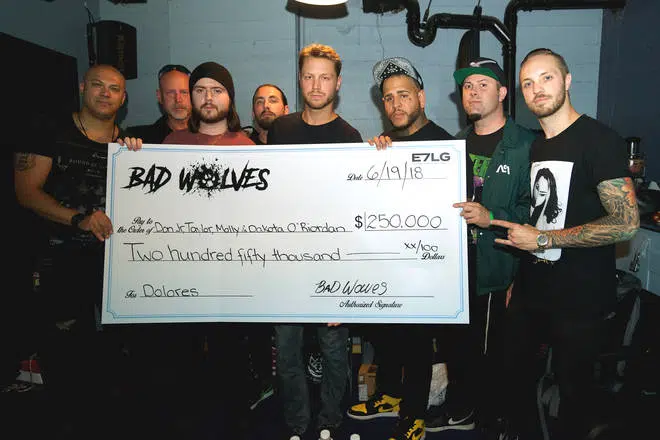 Jun 21, 2018
Graham Caddy
Bad Wolves have presented a check for $250,000 to the family of late Cranberries singer Dolores O'Riordan.
The band scored a massive hit with its cover of the Cranberries hit "Zombie," for which O'Riordan was slated to record vocals on the day that she died in a London hotel this past January. The band decided to release the song in her honor with all proceeds going to her children. Bad Wolves frontman Tommy Vext told us that donating the money to O'Riordan's family was an easy decision: "If we didn't do that, we were shelving the song and it would never have seen the light of day. It's not like some cash grab. We're not here to capitalize on something. It was a tragic thing. What better way to pay tribute to her, you know, and then try to give back".
The band made good on its promise by inviting O'Riordan's family onstage Tuesday night (June 19th) at New York's Gramercy Theatre and presenting them with the quarter-million-dollar check.
~Graham