Fat Cat Is FAT, And That's That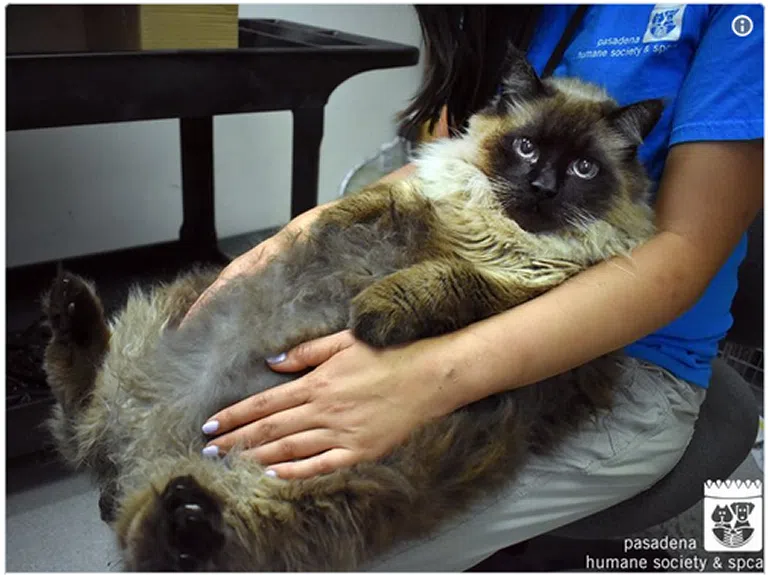 Please enjoy Chubbs, a 13.1 kilogram Himalayan mix who was found wandering the streets of Pasadena California, and is now enjoying the hospitality of the Pasadena Humane Society and SPCA while the search continues for his current (or new) family.
The Society's post, titled HUGE CAT ALERT, with the picture of the beastie staring into the camera, has gone viral. "As millions of Americans hit the gym on the quest for the perfect summer body, a 29lb cat began an exercise regimen of his own," reads a Facebook post from the organization. "Earlier this week, the 10-year-old Himalayan mix took himself for an afternoon walk down a busy Altadena street. Luckily, he was found by a good Samaritan who lugged him to the Pasadena Humane Society & SPCA for care."
The portly puss didn't have any ID, and was temporarily and appropriately named by Society staff, who gave him a bit of a shave in order to take care of some severely matted fur. If an owner isn't located by 11am this Sunday, Chubbs will go up for adoption, and hopefully his new companions will put him on a bit of a regimen. "We need to get some weight off of him, and whoever adopts him is hopefully going to have a little bit of fun exercising him," Pasadena Humane Society president Julie Banks said.
---
Love, Dr. Scott James

Subscribe to Scott's Now posts via RSS

Report A Typo