Claremont student wins top prize at Canada Wide Science Fair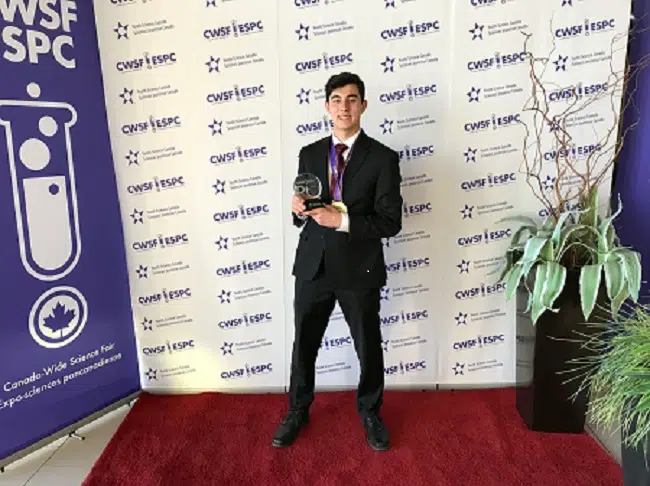 A Grade 11 student at Claremont Secondary School in Saanich has won the top prize at the Canada Wide Science Fair.
Nicolas Fedrigo won the platinum award in the senior division for his work on redesigning the pedicle probe which is used by surgeons in spinal fusions.
"I was really quite amazed and never thought I would win platinum and I was shocked when they called my name."
For his project, Fedrigo made some advances on what is called a pedicle probe. Pedicle probes are medical devices used by surgeons to create pilot holes to guide the placement of pedicle screws for spinal fusions.  He says the current method is behind in the times.
"Currently with the traditional pedicle probe, you are doing it blindly. And as you can assume when you are pushing a pointy thing with a handle into someone's back and it's off by half a degree that could cause paralysis."
Nicolas improved the probe, so surgeons can have better navigation.
The Canada Wide Science Fair had over 500 participants and Fedrigo says he is the first person from Vancouver Island to win the top prize.
His project also got him a first-place finish in the Vancouver Island Regional Science Fair.
" I think what they most liked about my project is that that I did it all by myself at home. A lot of the other projects at the fair were done under a researcher that is top in the field. They told me they liked how independent I was."
@SD63Claremont star science student Nicolas Fedrigo wows another judge at the Vancouver Island Regional Science Fair at UVic. Good luck Nicolas! pic.twitter.com/bLad580LVb

— Claremont Secondary (@SD63Claremont) April 8, 2018
He's planning on perfecting his design as he now moves on as one of two Canadian representatives at the European contest for young scientists.