Malahat to be closed for hours after fuel truck crash and spill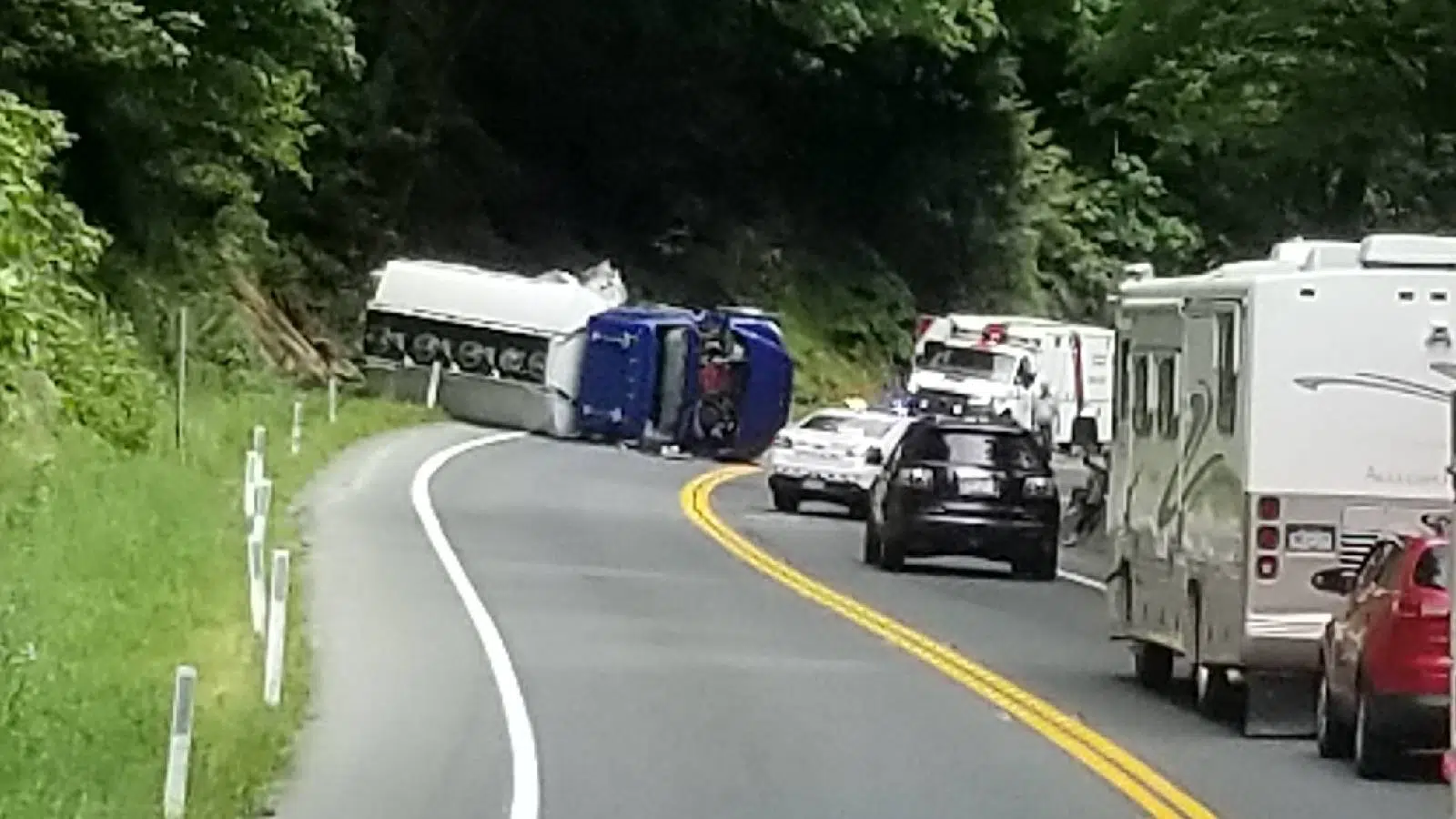 The Trans Canada is closed in both directions and two people are injured after a fuel truck and a van collided near Goldstream Park.
The fuel truck rolled on it's side and fuel leaked out of it and into the ditch.
RCMP say the fuel has now been contained and the Ministry of Environment is monitoring the location.
The injuries appear to be non-life threatening according to Mounties.
The southbound traffic is being diverted along Finlayson Arm Road.
*** update from RCMP***
Ministry of Transport and Ministry of Environment reporting the area of the collision has been designated a "hot zone" and Highway 1 reopening is not expected prior to 10:00 p.m.
Finlayson Arm Road will remain open for emergency vehicles, local residents and non-commercial traffic by pilot car northbound only at this time. 
Marine Circle route through Sooke, Port Renfrew and Lake Cowichan remains open.
The northbound traffic is being diverted onto West Shore Parkway.
"The cause of the collision is under investigation.  The fuel spill is a risk for motorists and first responders, as well as a potential environmental hazard.  We ask for patience from drivers who are affected by any delays as emergency crews deal with the closure of Highway 1," says Cpl. Chris Dovell of the West Shore RCMP.
The Ministry of Transportation is predicting the Malahat won't be re-opened at Goldstream until 1030pm.
Here is a link to the detours here:
BC Ferries says the Mill Bay Ferry Terminal crossing to Brentwood Bay has now added three extra sailings.
#BCFHeadsUp #MillBay – #BrentwoodBay #Klitsa Additional staff have been called in to accommodate traffic vol. Vessel will perform 3 supplementary sailings as follows:
7:30pm, 8:40pm, 9:50pm departing from #BrentwoodBay
8:05pm, 9;15pm, 10:25pm departing from #MillBay. ^mc

— BC Ferries (@BCFerries) May 24, 2018