Victoria Royals select local product in Bantam draft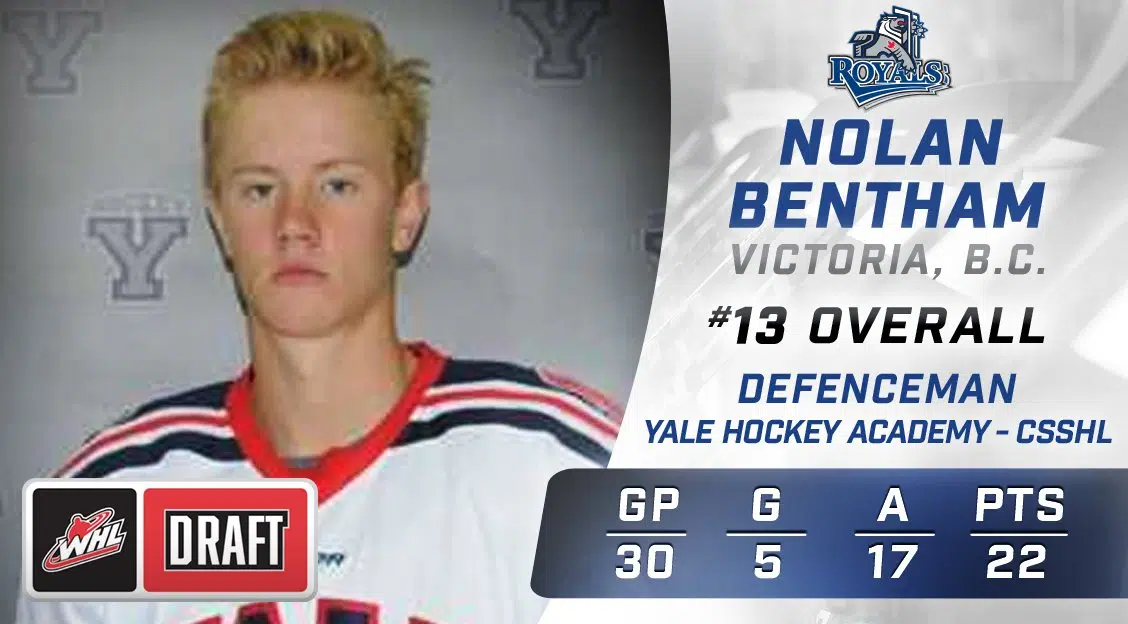 The Victoria Royals used their first selection in the 2018 WHL bantam draft to select local product Nolan Bentham.
The 6-2, 179 lb defenceman spent the 2017-18 season with the Yale Hockey Academy Bantam Prep team of the Canadian Sport School Hockey League (CSSHL).
Bentham played in 30 games for Yale where he earned 22 points (5g-17a) to go with 34 penalty minutes.
"We are very excited to have Nolan join our family," President & General Manager Cameron Hope said in a release. "He is a big, smart, mobile defender who plays a strong game in all zones. He's an excellent skater with a hard shot who makes plays at speed. The fact that he is from the South Island is a bonus."
Bentham is also a former member of the Victoria Racquet Club.
Congratulations to Racquet Club alumnus Nolan Bentham! https://t.co/zF2wgUm1T5

— VRCMHA (@VRChockey) May 3, 2018
Overall the Royals made 12 selections in draft that was held in Red Deer Alberta. They took 6 forwards, 5 defenseman and a goaltender. Four of the players were from the island including Bentham.
Here is a full list:
2018 Victoria Royals Bantam Selections
| | | | | | | | | | |
| --- | --- | --- | --- | --- | --- | --- | --- | --- | --- |
| R | # | Team | Player Name | P | H | W | DOB | Last Team | Hometown |
| 1 | 13 | Victoria | Bentham, Nolan | D | 6.02 | 180 | 06/12/2003 | Yale H.A. Bntm Prep | Victoria, BC |
| 3 | 52 | Victoria | Hodson, Matty | F | 5.07 | 135 | 07/08/2003 | Saskatoon Outlaws BAA | Saskatoon, SK |
| 5 | 103 | Victoria | Crane, Trentyn | F | 5.08 | 159 | 02/02/2003 | Pembina Valley Hawks | Morden, MB |
| 6 | 117 | Victoria | Smith, Braden | D | 5.11 | 165 | 04/07/2003 | Thompson Zone Blazers | Kamloops, BC |
| 7 | 147 | Victoria | Newans, Cage | F | 6.00 | 170 | 05/15/2003 | Delta H.A. Bntm Prep | Parksville, BC |
| 8 | 165 | Victoria | Maddocks, Keegan | G | 6.00 | 160 | 04/14/2003 | Pac-Coast H.A Bntm Prep | Langford, BC |
| 8 | 167 | Victoria | Senden, Karsten | D | 6.01 | 170 | 01/06/2003 | Anchorage N Stars 14U | Anchorage, AK |
| 8 | 168 | Victoria | Alexander, Christopher | C | | | 02/20/2003 | Shattuck-St. Mary Sabres | Santa Clarita, CA |
| 8 | 170 | Victoria | Bazin, Roux | F | 5.08 | 149 | 05/26/2003 | Pembina Valley Hawks | Treherne, MB |
| | | | | | | | | | |
| --- | --- | --- | --- | --- | --- | --- | --- | --- | --- |
| 9 | 189 | Victoria | Hampton, Graeme | D | 5.09 | 153 | 05/11/2003 | St. Albert Sabres BAAA | Sturgeon County, AB |
| | | | | | | | | | |
| --- | --- | --- | --- | --- | --- | --- | --- | --- | --- |
| 10 | 200 | Victoria | Roloson, Ross | D | 5.10 | 155 | 01/30/2003 | Shawnigan Lake Bntm Prep | Victoria |
| 11 | 233 | Victoria | Huxley, Brett | C | 5.10 | 140 | 06/27/2003 | Calgary CNHA Northstar | Calgary, AB |