Fleetwood Mac To Lindsey Buckingham: Go Your Own Way — You're FIRED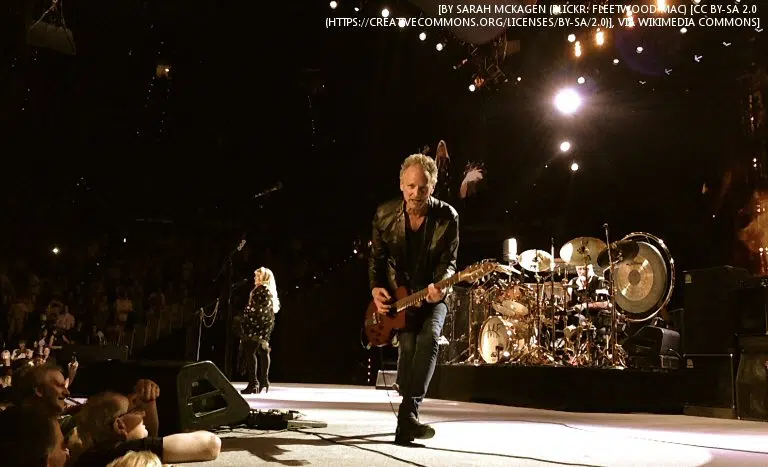 Following some sort of spat regarding the upcoming tour, Fleetwood Mac have given Lindsey Buckingham the heave-ho, and will replace him with Neil Finn of Crowded House and Mike Campbell of Tom Petty and The Heartbreakers.
The feline actually escaped from the sack last Wednesday, when ex-Fleetwood Mac guitarist Billy Burnette got on The Twitters and scribbled a since-deleted post: "Breaking news: Lindsey Buckingham is out but I'm not in." Buckingham's exit has since been confirmed by Rolling Stone, among others.
The Fleetwood Mac camp issued a collective media release, which reads, "We are thrilled to welcome the musical talents of the caliber of Mike Campbell and Neil Finn into the Mac family. With Mike and Neil, we'll be performing all the hits that the fans love, plus we'll be surprising our audiences with some tracks from our historic catalogue of songs. Fleetwood Mac has always been a creative evolution. We look forward to honoring that spirit on this upcoming tour."
Mick Fleetwood also said, "Fleetwood Mac has always been about an amazing collection of songs that are performed with a unique blend of talents … We jammed with Mike and Neil and the chemistry really worked and let the band realize that this is the right combination to go forward with in Fleetwood Mac style. We know we have something new, yet it's got the unmistakable Mac sound."
Predictably, a number of fans are up in arms about the dismissal.
Fleetwood Mac isn't Fleetwood Mac without Lindsey Buckingham that's for certain. Every time he leaves they have to replace him with two guitarists, such is his ability. His technique is so unique listen to the solo in I'm So Afraid, The Chain or Frozen Love for example.

— DarrenHamer (@DarrenHamer) April 9, 2018
So Lindsey Buckingham has been kicked out of Fleetwood Mac because @StevieNicks even at 70 YEARS OLD is still a woman scorned. Grow up Stevie your act is stale. #fleetwoodmac @RollingStone

— Scalp Trading (@TraderGurus) April 8, 2018
I'd pay money to hear Mike Campbell play Lindsey Buckingham's guitar parts, but I won't pay to see Stevie Nicks exchange meaningful, insinuating glances with Neil Finn.

— Rob Tannenbaum (@tannenbaumr) April 9, 2018
Lindsey Buckingham has left Fleetwood Mac for a second time, which raises the question: is Fleetwood Mac even an active band at this point? https://t.co/4wV3VmOAAo

— Stephen Thomas Erlewine (@sterlewine) April 9, 2018
Fleetwood doesn't exist without Lindsey Buckingham.

— Art Tavana (@arttavana) April 9, 2018
#LindseyBuckingham IS #FleetwoodMac. Good luck on the new tour everyone else. I want to meet the people who are going to plunk their money down for Neil Finn singing "Monday Morning" and "Go Your Own Way." #Morons

— DoucheyBrain (@DoucheyBrain) April 9, 2018
@MickFleetwood So sad that I will no longer being going to your concerts after all these years. Lindsay Buckingham had become the true leader of Fleetwood Mac. Good Luck

— Gary Nordstrom (@13nordman1) April 9, 2018
Buckingham became a member of Fleetwood Mac in 1974 along with Stevie Nicks, and wrote and performed many of their big hits. He left in 1987, a bit before the Tango In The Night tour, on which he was replaced by Billy Burnette, and then came back nine years later for The Dance reunion tour. The next 20 years or so saw him on active duty with the band, with their last full shows at the Classics East and Classics West festivals last summer; they also did a quick pre-MusiCares gig in January, ending that one with, ominously enough, Go Your Own Way.
---
Love, Dr. Scott James

Subscribe to Scott's Now posts via RSS

Report A Typo