PM Trudeau met by protesters in Victoria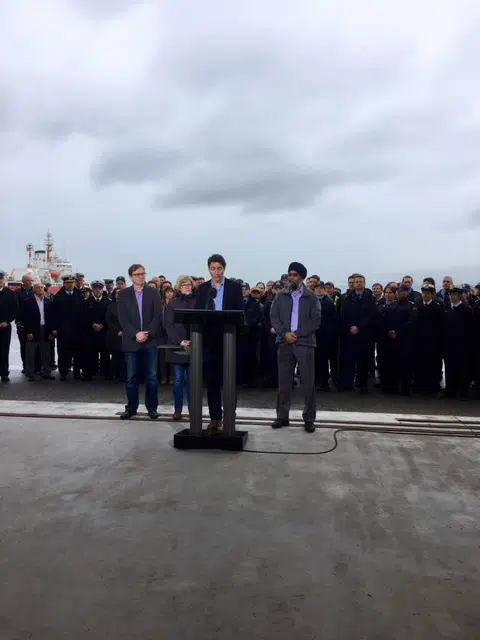 Canada's Prime Minister's first stop on a quick western trip was in Victoria on Thursday.
During his brief stop in Victoria to meet with coast guard workers, Justin Trudeau was met by dozens of Kinder Morgan protestors.
Many chanting:" "how do you respond to a Bitumen spill? Leave it in the ground."
Crowds/Protesters gathering to greet Prime Minister @JustinTrudeau in Victoria #yyj #CDNpoli pic.twitter.com/7tPA52s7SJ

— Art Aronson (@ArtAronson) April 5, 2018
Trudeau made it clear though on his government's position on the Kinder Morgan pipeline expansion.
"This project will be safe, jobs will be created, and this pipeline will be built."
The Prime Minister still maintained his government is invested in protecting the environment and said it's a balancing act that can be done.
"People here in Victoria know that environment and the economy must go hand in hand, must co-exist."
Trudeau also said he had a productive telephone meeting with Premier John Horgan even though he couldn't meet in person.
Police confirmed that at least one person was taken away in handcuffs as protests went a little too far.
Trudeau spent the night Vancouver at a Liberal fundraiser and then is scheduled to travel to Alberta on Friday.