Two New Elton John Tribute Albums Will Include Don Henley, Mumford And Sons, Coldplay, The Killers And More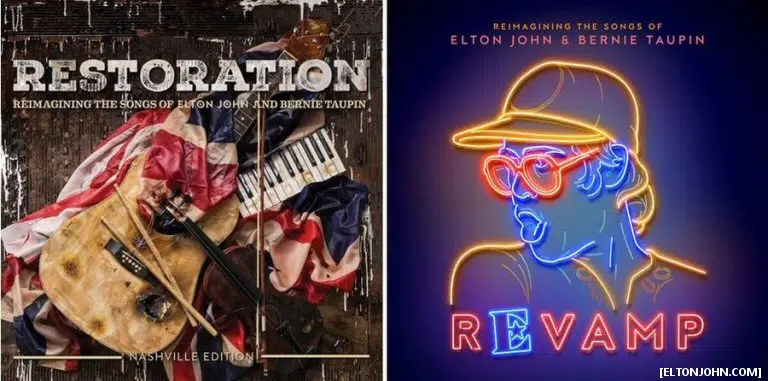 Friday April 06, we'll see the release of two new Elton John tribute albums. Revamp contains reinterpretations of his songs by rock and pop artists, while Restoration is a collection of covers done by country artists. Don Henley, Queens Of The Stone Age, Willie Nelson, The Killers, and Coldplay are among the musicians who appear on the discs.
Says Elton in a media release, "It's always a huge compliment when an artist loves your song enough to take the time and effort to rework it. As songwriters, Bernie [Taupin] and myself are thrilled when singers we admire and respect as much as those on Revamp & Restoration choose to add their own unique twist in the process. It means that our music is still relevant and ultimately that our songs continue to reach new audiences. We're humbled and thank them all for their generosity."
Henley got together with one of the newest Eagles, Vince Gill, on Sacrifice; Queens Of The Stone Age cover Goodbye Yellow Brick Road, which is a tune they performed earlier this year. They're no strangers to Elton; he supplied piano and vocals on Fairweather Friends for their 2013 album …Like Clockwork. Willie Nelson gives us his take on Border Song, Coldplay dive deep into the Captain Fantastic And The Brown Dirt Cowboy album for We All Fall In Love Sometimes, and Emmylou Harris duets with Rosanne Cash on This Train Don't Stop.
Elton says that he worked on Revamp, and Taupin's "obsession with Americana" led him to oversee Restoration. Bernie says that the diversity of artists represented here reflects how he and Elton have worked their magic over the years.
"Because of our love of all kinds of music, we're not stuck in one genre," he says. "From day one we borrowed from everything that's good about American music — whether it's blues, country, gospel, pop, pure rock — everything got thrown in the mix. I think that's why our music over the years has been so varied. It would be tiring if you just got stuck in one niche your entire career, especially when it's one as long as ours."
Revamp
1. "Bennie and the Jets" — Elton John, P!nk, Logic
2. "We All Fall in Love Sometimes" — Coldplay
3. "I Guess That's Why They Call It the Blues" — Alessia Cara
4." Candle in the Wind" — Ed Sheeran
5. "Tiny Dancer" — Florence + the Machine
6. "Someone Saved My Life Tonight" — Mumford & Sons
7. "Sorry Seems to Be the Hardest Word" — Mary J. Blige
8. "Don't Go Breaking My Heart" — Q-Tip featuring Demi Lovato
9. Mona Lisas And Mad Hatters — The Killers
10. "Daniel" — Sam Smith
11. "Don't Let the Sun Go Down on Me" — Miley Cyrus
12. "Your Song" — Lady Gaga
13. "Goodbye Yellow Brick Road" — Queens of the Stone Age
Restoration
1. "Rocket Man" — Little Big Town
2. "Mona Lisas and Mad Hatters" — Maren Morris
3. "Sacrifice" — Don Henley and Vince Gill
4. "Take Me to the Pilot" — Brothers Osborne
5. "My Father's Gun" — Miranda Lambert
6. "I Want Love" — Chris Stapleton
7. "Honky Cat" — Lee Ann Womack
8. "Roy Rogers" — Kacey Musgraves
9. "Please" — Rhonda Vincent and Dolly Parton
10. "The Bitch Is Back" — Miley Cyrus
11. "Sad Songs (Say So Much)" — Dierks Bentley
12. "This Train Don't Stop" — Rosanne Cash and Emmylou Harris
13. "Border Song "– Willie Nelson