The World's First David Bowie Statue Has Already Been Vandalized Because Of Course It Has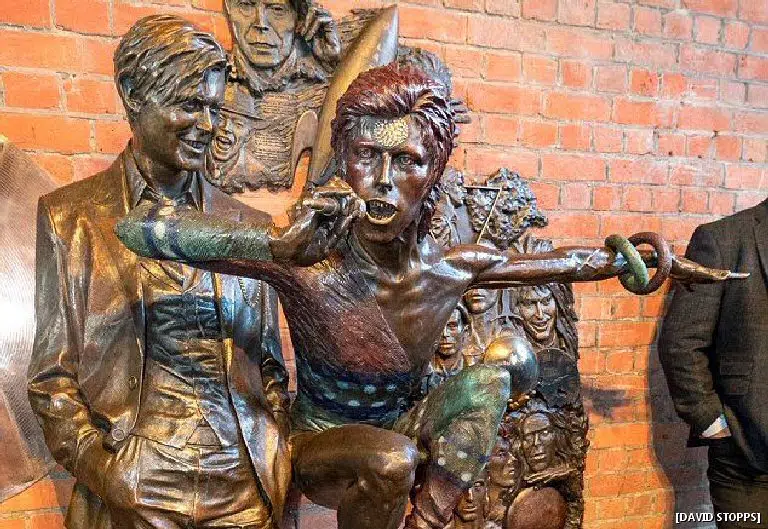 Just days after it was unveiled in Buckinghamshire, the world's first David Bowie statue has fallen victim to vandals. The memorial had its wraps taken off Sunday afternoon, and lickety-split, it was covered in graffiti reading "feed the homeless first" and "RIP DB".
The statue was put up in Aylesbury Market Square, in the vicinity of the Friars music venue where Bowie debuted his Ziggy Stardust persona in the early 1970s. Promoter David Stopps was behind a successful crowdfunding campaign which raised £100,000, along with several grants, for the statue's creation.
While the graffiti refers to homelessness in the area, Deputy Mayor Mark Willis reminded the citizenry that no taxpayer money was spent. "I want to point out that this statue received precisely £0 of public money", he says.
Marillion's Steve Hogarth, who officially unveiled the statue, said: "It's with a heavy heart and despair I hear that within 48 hours someone has defaced Andrew Sinclair's breathtaking David Bowie double-statue. Apparently it's been vandalised with spray-paint. Such a shame. Hopefully it can be cleaned up and I guess they'll have to resort to CCTV or, worse, some sort of barrier. Sigh."
---
Love, Dr. Scott James

Subscribe to Scott's Now posts via RSS

Report A Typo