Clean Gene Simmons Changes His Mind About Marijuana: "I Was Uninformed"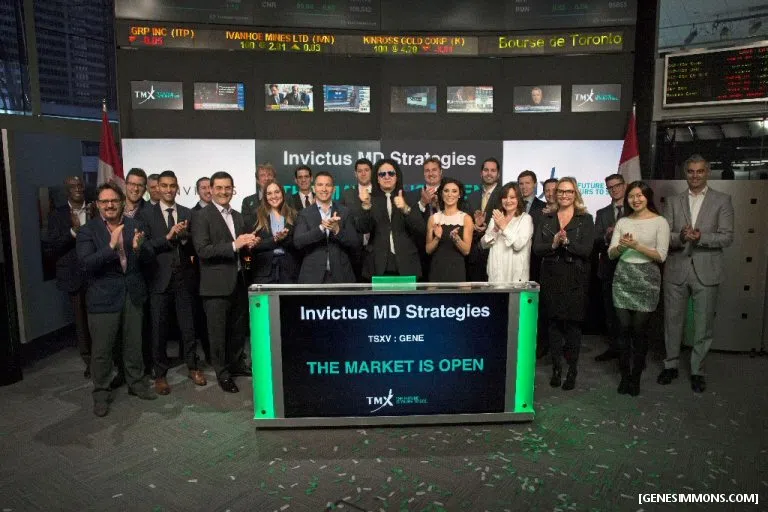 KISS bassman, box set delivery boy and occasional book head-bopper Gene Simmons, who is well known for eschewing drugs and booze, has created a bit of a stir among many of his fans with his announcement that he's now in the legal pot business.
Simmons has hooked up with Vancouver cannabis outfit Invictus, as "chief evangelical officer", according to Ultimate Classic Rock.  During a dog and pony show to publicize the launch of Invictus on the Toronto Stock Exchange, with the ticker name GENE, he said that he's bought ten million dollars' worth of stock in the company, and that his agreement as a media spokesthing includes a commitment for at least 50 appearances at promotional events over the next five years.
Simmons maintains that he's never consumed alcohol or smoked tobacco or marijuana, or done any drugs aside from those prescribed by a doctor. Now, he says, he was in the dark about the medicinal properties of marijuana. "I was wrong and I was not informed," he said, according to the Toronto Sun. "Well, drug abuse, you don't have to be a genius [to know that's wrong] and alcohol abuse, everybody knows that's wrong but I've been dismissive of cannabis … I have to man up and admit in the past, I used to dismiss lots of things because of ignorance and arrogance. About three years ago when I did my own research, I found out astonishingly new information that doctors and researchers were talking about with regards to cannabis."
Although he didn't say if he's down with recreational pot being sold in the free market, he did say that he sees this as a terrific business opportunity. He's known for having a keen business eye, with a restaurant chain and several other businesses in his stable, along with his work and licensing arrangements with KISS. "At the end of the day, business is the sexiest thing," he notes.
Some observers have pointed out that this seems to be in stark contrast to his past comments regarding drugs and alcohol. In 2016, he told Los Angeles Times hacks, "I've never been drunk and I've never been high." He's been staunch on his position that it's not his job to "convince anyone of my lifestyle," although, "This is what I want for me."
He did go on to say that he wondered why anyone would want to impair their senses: "If you stand still, you're losing. We have to be like sharks. Either you move through the water or you drown."
---
Love, Dr. Scott James

Subscribe to Scott's Now posts via RSS

Report A Typo