Musicians And Ex-NHLers At The Juno Cup: Purveyors Of Perfectly Palatable Productions Prepare To Perform Puck Passing With Past Pros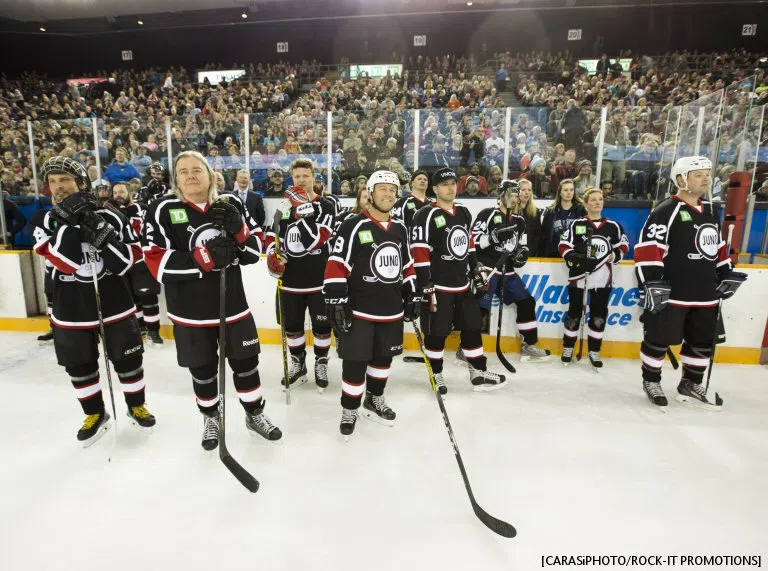 Tom Cochrane and Gord Downie are a couple of good examples of Canadian musicians to whom hockey is or was important enough to inspire some of their songs, and more than one Great White North rocker has said they'd probably get a kick out of being a pro player. Some of them will once again get a first hand look at what it's all about as they face off against some former NHL luminaries in the 15th annual Juno Cup, tonight at 1030 at the Bill Copeland Sports Centre in Burnaby, with proceeds going to MusiCounts.
Ex-NHLers confirmed to suit up include Cliff Ronning, Jyrki Lumme, Kirk McLean, Dave Babych, Brad Dalgarno, and Troy Crowder. Confirmed non-ex-NHLers are Jim Cuddy, Dallas Smith, Chad Brownlee, Devin Cuddy and Canucks house band (Odds) head honcho Craig Northey, although Craig tells me he'll be on the bench, as he's still nursing a broken ankle. Odds bassman Doug Elliott will hit the ice in his stead.
Over the past fourteen years, the Juno Cup has raised $840,000 for MusiCounts, allowing the organization to provide kids with musical instruments and music education. Says Jim Cuddy in a media release, "The Juno Cup is great for all the right reasons – it combines music, hockey, and a great charity in MusiCounts who give much needed instruments to schools across Canada. The camaraderie between the musicians and the NHL Greats is evident both on and off the ice. And the fans in the stands cheering us on makes everyone feel energized and excited to play. I am looking forward to this year's game and celebrating the Junos in beautiful Vancouver with all of these great players."
---
Love, Dr. Scott James

Subscribe to Scott's Now posts via RSS

Report A Typo