Duncan couple charged in shocking animal cruelty case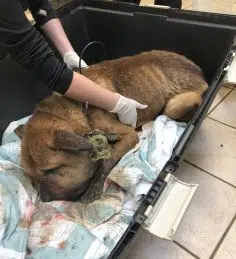 Two Duncan residents are facing animal cruelty charges in what the BC SPCA is calling a "profoundly shocking" case of abuse.
SPCA constables were called out to a property for a report of a dog in distress on February 16.
"We received a report of a dog in distress and when the constables arrived at the property they found a medium-sized brown dog on a tether that was only a few inches long, standing in a large pile of mud and feces," Marcie Moriarty, chief prevention and enforcement officer said.
They found the dog chained too tightly around the collar and extremely thin.
"As they got closer there was an overpowering stench and they realized that, not only was the dog severely emaciated, but his collar was deeply embedded into his neck, causing massive infection." Moriarty adds that the dog's head was swollen to two to three times its normal size.
Despite efforts to revive the dog, he died a few days later.
If convicted, Anderson Joe and Melissa Tooshley could see 5 years in prison, a $10,000 fine and a lifetime ban from owning pets. The two are scheduled to appear in court on Monday.