Are You The Next Great Bluesmeister Or Bluesmeistress? Find Out With Free Training And Education Courtesy Of The Victoria Blues Society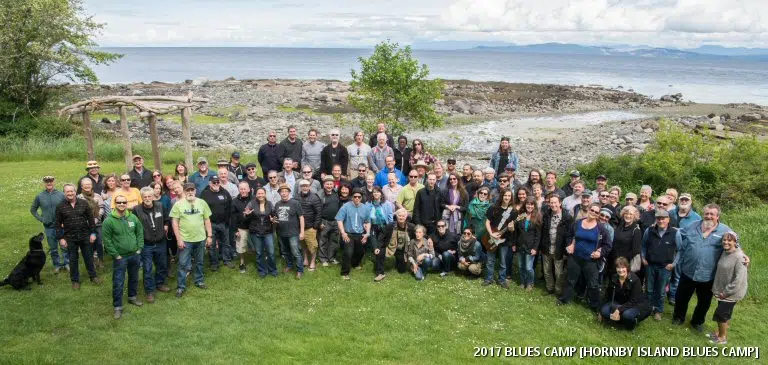 Part of the Victoria Blues Society's raison d'être is to promote and preserve the blues, baby, and last year, the Society established the John Fisher Memorial Legacy to fund opportunities to support and mentor musicians in the blues genre. Accordingly, the VBS has revealed that they'll be offering a blues grant to allow two musicians to attend Hornby Island Blues Camp.
The camp is Canada's premier blues bootcamp, providing unique workshops where a dozen of Canada's fines blues and roots players share their knowledge and inspiration with 70 students.
Workshops cover a variety of instruments and playing styles, and with the small class sizes, students get the kind of hands-on instruction which is key to learning. This year's teachers include Jack de Keyzer, JW Jones, Paul Pigat, recent Maple Blues Keyboardist Of The Year David Vest, Samantha Martin, and more. This opportunity is open to anyone wanting to attend Hornby Island Blues Camp, which runs from Sunday May 06 til Saturday May 12 this year. The Society will provide $1,000, with $625 paid directly for tuition, and the balance of $375 to be provided to the student for travel and accommodation.
Additional criteria:
Applicant must be a resident of Greater Victoria and 19 or over
Applicant must be an aspiring blues singer, songwriter or musician
Applicant must submit, in writing, one page describing their interest and/or experience in the blues genre, and why they'd like to be supported with this funding
The application must include the name, address and phone number of a local musician, teacher or music professional who knows the applicant and supports the application
The applicant agrees to use the funding only for the purpose awarded, and is responsible for any costs incurred over and above the funding provided
The deadline for applications is Sunday February 18; include your name, address, phone number and email address. Applications will be adjudicatd by a panel, and successful applicants will be notified via email.
---
Love, Dr. Scott James

Subscribe to Scott's Now posts via RSS

Report A Typo