Six Year Old Victoria Wordmaker Levi Budd Gets Thumbs Up From William Shatner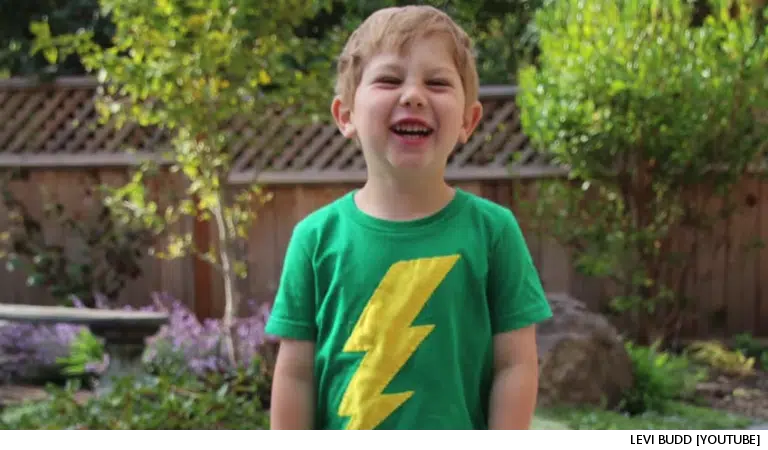 Six year old Levi Budd is a big fan of palindromes; he developed an affinity last year for words which are spelled the same way forwards and backwards, like "rotator". But what about words which are different words when spelled backwards? Is there a term for those, too? Levi wondered about that, after seeing a stop sign and noticing that "stop" spells a perfectly cromulent word backwards.
There wasn't one. So Levi came up with one: levidrome.
Levi's dad, Lucky, submitted the new word to Merriam-Webster for inclusion in a future dictionary edition; the publisher responded that a word has to be in common use before it's accepted.  However, levidrome has been added to the Merriam-Webster open source dictionary of user-submitted words, and to the online Urban Dictionary.
Meanwhile, the YouTube video posted by Lucky Budd is not only creating buzz with students across Canada, it's caught the attention of none other than William Shatner. He recently tweeted support for Levi, exhorting the Oxford Dictionary to include his "exciting word." Grammar Girl, who has hundreds of thousands of Twitter followers, indicated that she's going to use it. Even local Olympian Simon Whitfield is on board, with an attempt to get Deadpool's Ryan Reynolds to endorse the word.
Will levidrome have a chance at cromulence? University of Victoria Linguistics professor Alexandra D'Arcy says, "If it can transcend its original boundary so we are only talking about it when we talk about this clever young man, and his drive to have this word brought into the English language, then it stands a chance of making it into the dictionary."
Congratulations and best of luck to Levi in his eglaficious quest.
---
Love, Dr. Scott James

Subscribe to Scott's Now posts via RSS

Report A Typo