Fleetwood Mac Prep Self Titled 1975 Album Reissue, Plan World Tour For Next Year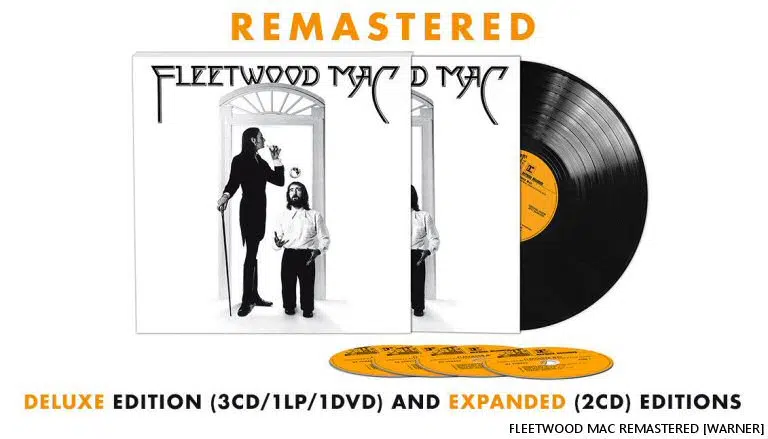 Fleetwood Mac are beavering away in their secret underground lair, getting ready for the reissue of one of their monstrously successsful albums, and plotting another tour.
The 1975 self-titled album was the second-biggest of that year, behind Peter Frampton's Frampton Comes Alive!, and went on to sell more than five million copies. The album will get the remastering treatment and will contain additional unreleased material, in three formats: a single CD, a two-CD collection with unreleased studio and live recordings, and a three-CD/LP/DVD deluxe edition with additional live material. Among those previously unreleased nuggets are live renditions and early versions of tracks including Rhiannon, Say You Love Me, and Landslide. The live numbers were recorded during concerts in 1976.
The deluxe edition will carry 14 additional unreleased live tracks, the original album on 180 gram vinyl, and a DVD with 5.1 surround and 24 bit/96 kHz stereo audio mixes. The release date for the new package is Friday January 19.
Earlier this year, Christine McVie appeared on The Beeb's The ONE Show and talked about tour plans, among other things.
Deluxe version contents:
Disc One – Original Album Remastered and Singles
'Monday Morning'
'Warm Ways'
'Blue Letter'
'Rhiannon'
'Over My Head'
'Crystal'
'Say You Love Me'
'Landslide'
'World Turning'
'Sugar Daddy'
'I'm So Afraid
'Over My Head' – Single Version
'Rhiannon' – Single Version
'Say You Love Me' – Single Version
'Blue Letter' – Single Version
Disc Two – Alternates and Live
'Monday Morning'
'Warm Ways'
'Blue Letter'
'Rhiannon'
'Over My Head'
'Crystal'
'Say You Love Me'
'Landslide'
'World Turning'
'Sugar Daddy'
'I'm So Afraid'
'Over My Head'
'Rhiannon'
'Why'
'World Turning'
'Jam #2'
'I'm So Afraid'
Disc Three – Live
'Get Like You Used To Be'
'Station Man'
'Spare Me A Little'
'Rhiannon'
'Why'
'Landslide'
'Over My Head'
'I'm So Afraid'
'Oh Well'
'The Green Manalishi (With The Two Pronged Crown)'
'World Turning'
'Blue Letter'
'Don't Let Me Down Again'
'Hypnotized'
---
Love, Dr. Scott James

Subscribe to Scott's Now posts via RSS

Report A Typo