Ka-Ching: Coldplay's Head Full Of Dreams Tour Clocks In At Number Three On The All-Time Most Lucrative Concert Tours List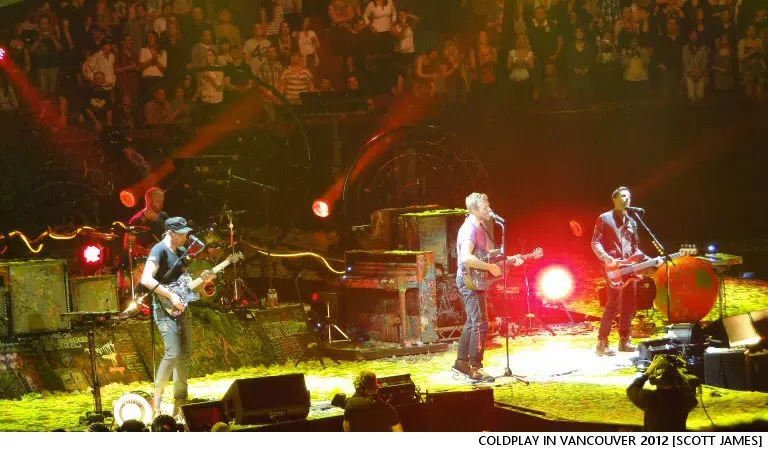 Coldplay's Head Full Of Dreams tour concluded this week, and they're now officially at number three on the Holy Moly, This Tour Sure Made Some Money list.
The tour launched in March of last year, after their Super Bowl halftime show, and raked in $523,033,675 in ticket sales alone, with the band performing for 5,389,586 fans on 114 shows in 76 cities and 31 countries. The tour was composed of two legs in Latin America, two in Europe, two in North America, and one each in Australia and Asia. Coldplay ascend to the concert earnings stratosphere with U2 and The Rolling Stones, who grossed $736 million and $558 million respectively.
Jay-Z recently gave Chris Martin quite the nod, hailing him as the current embodiment of The Bard. Says Mr Z, "I have been in the industry long enough to know when I'm in the presence of a genius and Chris Martin is just that", he said. "In years to come, Britain will look back at him as a modern day Shakespeare. He is an incredible recording artist, an incredible songwriter, but where he really comes alive is performing live. If you get the chance to see Coldplay live, do it – you ain't gonna regret it."
Meanwhile, here's something pretty inventive from Coldplay's 2008 Prospekt's March EP. This video was nominated in the Best Art Direction in a Video and Best Visual Effects in a Video categories at the 2009 UK Music Video Awards, and got a nod for Best Music Video at the 52nd Annual Grammy Awards.
---
Love, Dr. Scott James

Subscribe to Scott's Now posts via RSS

Report A Typo