Gene Simmons Reportedly Banned From Fox News For "Lewd Behavior" And Bopping People On The Head With Reading Material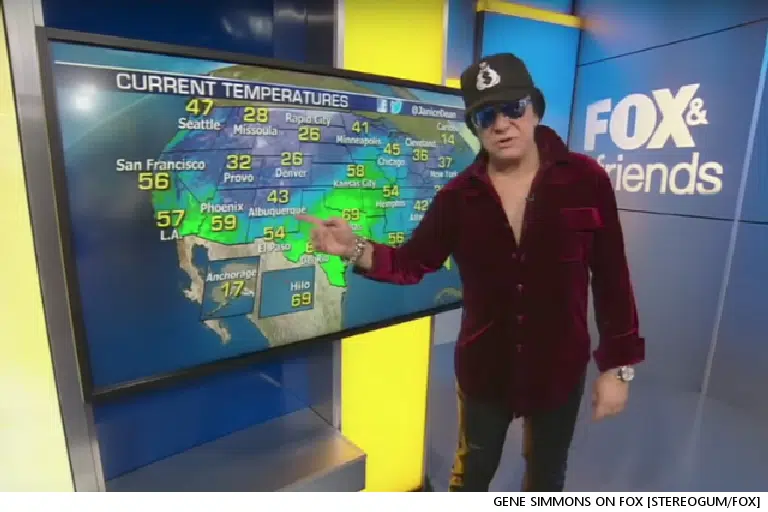 That wacky Gene Simmons. Always full of surprises, he is. His recent hijinks include an attempt to trademark the rock and roll devil horns gesture, and offering to deliver his $2,000 box set (in a safe) to your home for a small delivery fee of $50,000. He also claims to have the trademark rights to the money bag logo, which could be terrible news for cartoon bank robbers  everywhere, and for the term "motion pictures".
The KISS-Man now has a brand new book, the title of which is On Power: My Journey Through The Corridors Of Power And How You Can Get More Power. Yes, that's actually the title. I did not make that up. I think it might be about power or something. According to Forbes, one of the recommendations contained therein goes something like this: "Power and money is the ability to make your own decisions about your own happiness, ambitions and other issues, without worrying as much about repercussions."
Perhaps Gene was taking his own advice a little too much; after shooting a Fox & Friends segment hyping his tome, he reportedly crashed a staff meeting at Fox News' New York City office, hiked up his shirt a little higher (no, Dave Matthews, his shirt, not his skirt), made "lewd remarks", and shuffled around the conference room with a copy of his book in his hand, using said book to "bop" Fox News staffers on their heads.
The Daily Beast notes that after introducing the assembled staff to his bare chest and tummy, Simmons shouted "Hey, chicks — sue me!". He also reportedly made several attempts at jokes involving Michael Jackson, and, of course, pedophilia. The book-bop-on-the-head routine was ostensibly part of a joke he was making regarding the staffers' comparative intelligence levels. Alright, then.
Fox network executives have now permanently banned Simmons from Fox News and Fox Business Network, so I guess this might be your last chance to see Gene doing the weather forecast on Fox, which he does following the interview.
---
Love, Dr. Scott James

Subscribe to Scott's Now posts via RSS

Report A Typo