Robby The Robot: Something Is Approaching From The Southwest. Oh, Never Mind. It's Just The Bonhams Auction Where They're Selling Me Off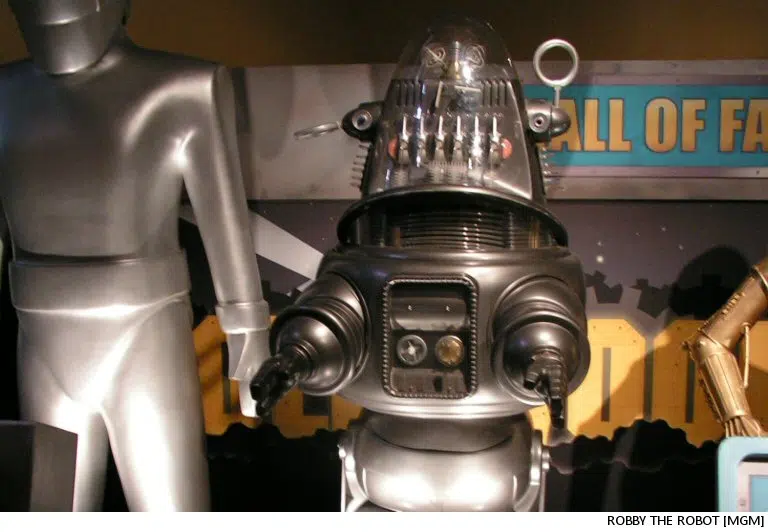 One of the most iconic pieces of science fiction memorabilia in television history is going on the auction block.
Robby The Robot, who appeared in Forbidden Planet, Lost In Space, The Twilight Zone and many other sci-fi outings, will be one of the star attractions at the Out Of This World auction hosted by Bonhams Tuesday November 21, and he's expected to fetch seven figures.
Costing Metro-Goldwyn-Mayer around $100,000 when Forbidden Planet was being made in 1956 (almost a million 2017 dollars), Robby was one of the most expensive props ever built. The seven-foot tall mechanical monstrosity was made mostly of plastic, with working electronics which could be controlled remotely or by the person inside the suit, and is still operational.
Robby is currently owned by Bill Malone. He says he bought the robot in 1979 and has kept it in his home ever since. He jokes about having coffee with Robby every morning, and says that he wants to make sure that the legendary TV prop is taken care of properly. "I'm of an age where I'm still healthy and doing good. But I think it's time to think about his future. We're sending Robby to college."
Forbidden Planet, which gave 30 year old Leslie Nielsen one of his first serious acting roles, is credited with originating several science fiction tropes. It was the first film to depict humans traveling above light speed in a vehicle of their own creation, and was the first to be set entirely on a remote planet. As well, Robby The Robot was one of the first film robots to display a distinct personality.
Bender Bending Rodriguez could not be reached for comment at publication time.
---
Love, Dr. Scott James

Subscribe to Scott's Now posts via RSS

Report A Typo