reminder: Victoria Whisky Fest tickets on sale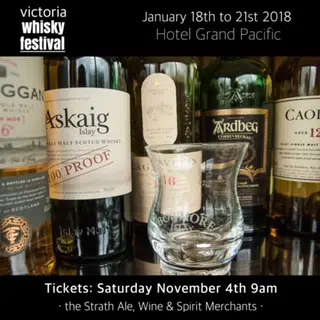 Nov 03, 2017
Ryan & Heather
Every year the Victoria Whisky Festival is sold out. The question seems to be, "why didn't I know tickets went on sale?"
Here's your heads up.
The Victoria Whisky Festival runs January 18th through January 21st at Hotel Grand Pacific.
Tickets sales for in town attendees starts Saturday November 4th, 2017 at 9 am at the Strath Ale, Wine & Spirit Merchants (919 Douglas Street)
No orders will be accepted by telephone.
Here's details on ticket pricing for the festival.
All Festival tickets will be strictly limited, bundled into packages and will be non-refundable.
Click here to view the ticket packages that are available to out of town attendees.
The Victoria Whisky Festival is proudly sponsored by 100.3 The Q!