obit: Trailer Park Boys actor, John 'Mr. Lahey' Dunsworth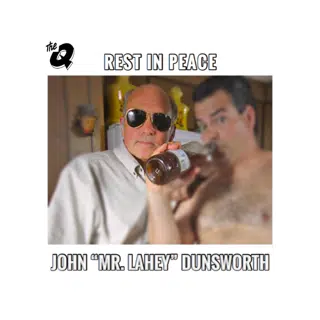 Oct 17, 2017
Ryan & Heather
John Dunsworth, known for his role of Jim Lahey in the comedy series Trailer Park Boys, has died. He was 71.
Dunsworth's daughter Sarah, who is also a star of the Trailer Park Boys, shared details on her Twitter feed.
A post on the Trailer Park Boys Twitter page Monday evening said: "We're in shock and heartbroken by the sudden loss of our dear friend John Dunsworth. We respect the family's wishes for privacy at this time."
Bubbles, played by Mike Smith, tweeted, "I am beyond devastated. John was a beautiful guy. Brilliant and fascinating. I am forever grateful for having known him. RIP my friend."
Lahey was trailer park supervisor at Sunnyvale, and was in a rocky relationship with Randy. He was more often than not, very drunk, and would battle Bubbles, Julian and Ricky. Some of his most famous catchphrases included, "Your s—goose is cooked" and "I am the liquor."
In a 2010 interview with the Sarnia Observer, Dunsworth joked that he was nothing like his famed Trailer Park Boys character.
"I've been drunk maybe five times in my life but all by mistake. Why would anyone give up their equilibrium and fall over and puke on themselves? Why would anyone want to do that?"
Dunsworth and Patrick Roach (Randy) appeared several times on Vancouver Island in character as Mr. Lahey and Randy. The most recent time was in Lake Cowichan at Legends Valley Music Festival in 2016.