"Weird Al" Yankovic: Master Of Shade, Even In Tour Titles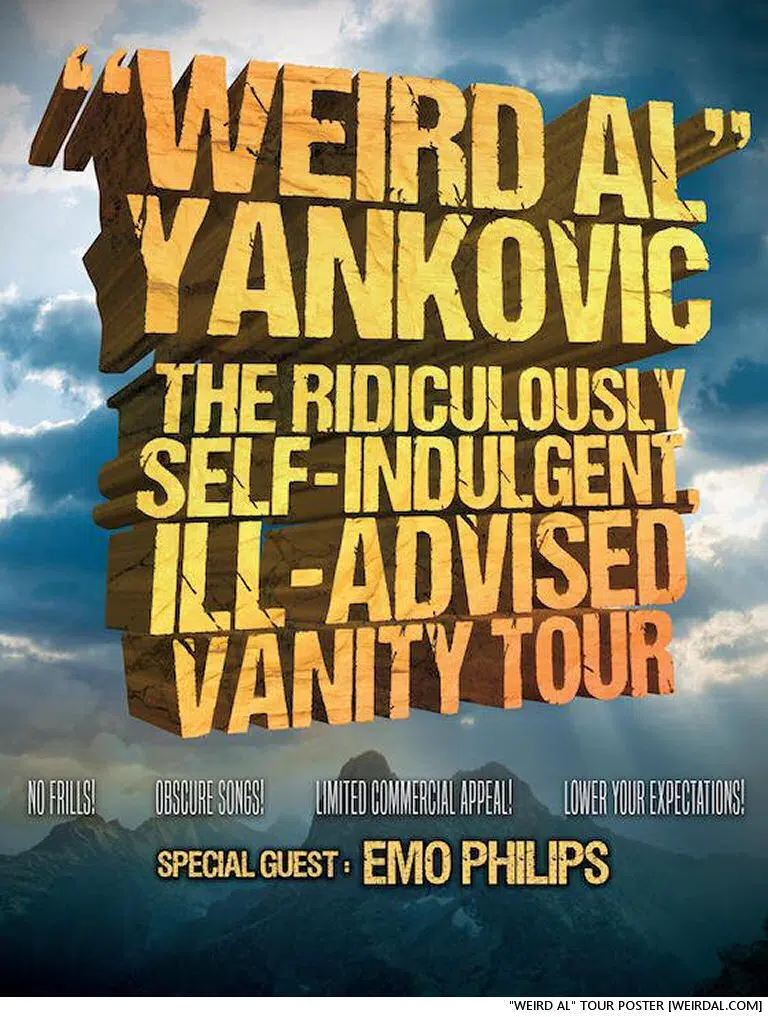 "Weird Al" Yankovic is plotting a "no frills" comedy tour next year — and as you might expect from someone so adept at skewering everyone and everything with his parody songs, he manages to pull off some concurrent skewering and self-deprecation with the title of his tour.
Yankovic will be performing some rare chestnuts from his extensive back catalog on The Ridiculously Self-Indulgent, Ill-Advised Vanity Tour, with the "no frills" designation referring to the fact that he'll eschew video screens and costume changes in favor of a bare-bones effort.
Says The "Weird" One in a media release, "After putting on 'multimedia extravaganzas' for 35 years, we just wanted to take it down a few notches and have a little musical palate cleanser."  "Weird Al"'s fellow UHF cast member and longtime friend Emo Philips will handle opening duties.  The tour's Great White North stops include Toronto, Montreal, Calgary, Regina, Winnipeg and others, although so far, the west coast (other than the Pacific Northwest of The United States Of America) is conspicuous by its absence.  Is it something we said?
Tickets go on sale Friday October 20.
The Ridiculously Self-Indulgent, Ill-Advised Vanity Tour
02/27 Poughkeepsie, NY – Bardavon 1869 Opera House
03/01 Tarrytown, NY – Tarrytown Music Hall
03/02 Ledyard, CT – Foxwoods Resort Casino
03/04 Boston, MA – Wilbur Theatre
03/07 Montreal, QC – Place des Arts
03/09 Toronto, ON – Danforth
03/10 Grand Rapids, MI – 20 Monroe Live
03/11 Detroit, MI – Michigan Theater
03/13 Buffalo, NY – University at Buffalo Center for the Arts
03/14 Ithaca, NY – State Theatre
03/16 Philadelphia, PA – Caesars Atlantic City
03/17 Long Island, NY – The Paramount
03/18 Harrisburg, PA – American Music Theatre
03/20 Washington, DC – Music Center at Strathmore
03/23 New York, NY – Apollo Theater
03/24 Pittsburgh, PA – Palace Theatre
03/25 Cleveland, OH – Playhouse Square
03/26 Lexington, KY – Lexington Opera House
03/28 Louisville, KY – The Kentucky Center for the Performing Arts
03/29 Indianapolis, IN – The Center for the Performing Arts
03/30 Champaign, IL – Virginia Theatre
03/31 Des Moines, IA – Hoyt Sherman Place
04/02 Rochester, MN – Mayo Civic Center Presentation Hall
04/03 Minneapolis, MN – Pantages Theatre
04/04 Minneapolis, MN – Pantages Theatre
04/06 Chicago, IL – Vic Theatre
04/07 Chicago, IL – Vic Theatre
04/10 Milwaukee, WI – Pabst Theater
04/12 Fort Wayne, IN – Honeywell Center
04/13 Chattanooga, TN – Walker Theater
04/14 Augusta, GA – Miller Theater
04/15 Atlanta, GA – Tabernacle
04/19 Springfield, MO – Gillioz Theatre
04/20 Longview, TX – S.E. Belcher Jr. Chapel and Performance Center
04/22 Midland, TX – Wagner Noel Performing Arts Center
04/24 Houston, TX – Stafford Performing Arts Center
04/26 San Antonio, TX – Tobin Center for the Performing Arts
04/27 Dallas, TX – The Majestic Theatre
04/28 Wichita, KS – Orpheum Theater
04/29 Kansas City, MO – Folly Theater
05/01 Denver, CO – Paramount Theatre
05/03 Grand Junction, CO – Avalon Theatre
05/04 Saint George, UT – Tuacahn Amphitheatre
05/05 Tucson, AZ – Fox Tucson Theatre
05/06 Albuquerque, NM – Lensic
05/08 Phoenix, AZ – Mesa Arts Center
05/09 Palm Springs, CA – McCallum Theatre for the Performing Arts
05/11 Los Angeles, CA – The Theatre at Ace Hotel
05/12 San Diego, CA – Humphrey's Concerts by the Bay
05/15 Sacramento, CA – Crest Theatre
05/17 Santa Cruz, CA – Golden Stage Theatre
05/18 Modesto, CA – Turlock Community Theatre
05/19 Oakland, CA – Fox Theatre
05/20 Napa, CA – Uptown Theatre
05/22 Redding, CA – Cascade Theatre
05/24 Eugene, OR – McDonald Theatre
05/25 Portland, OR – Revolution Hall
05/26 Portland, OR – Revolution Hall
05/27 Spokane, WA – Martin Woldson Theatre at the Fox
05/29 Seattle, WA – Moore Theatre
05/31 Calgary, AB – Grey Eagle Resort & Casino
06/01 Regina, AB – Casino Regina
06/02 Edmonton, AB – River Cree Resort and Casino
06/03 Medicine Hat, AB – Esplanade Theatre
06/05 Winnipeg, AB – Burton Cummings Theatre for the Performing Arts
06/06 Fargo, ND – Fargo Theatre
06/08 Columbia, MO – Jesse Auditorium
06/09 Clear Lake, IA – Surf Ballroom
06/10 Green Bay, WI – Meyer Theatre
---
Love, Dr. Scott James

Subscribe to Scott's Now posts via RSS

Report A Typo