Handwritten Thanksgiving Recipe from Marilyn Monroe, of course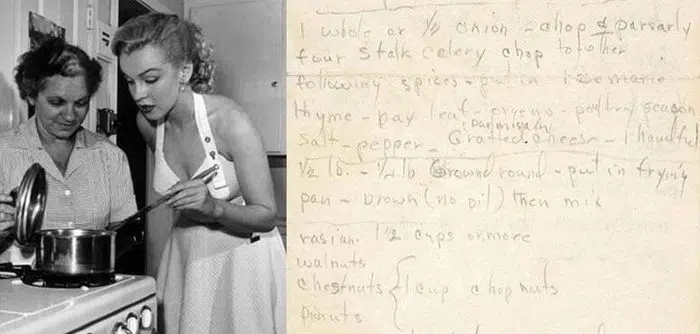 Oct 04, 2017
Ryan & Heather
With the recent death of Hugh Hefner, Marilyn Monroe's first photos for Playboy becomes a topic of conversation.
Follow the directions of the Hollywood legend and you can have one of the most handsome turkey-and-stuffing recipes you've ever encountered.
Marilyn Monroe wrote two cookbooks in the 1950s, which were sold off at an auction of her personal belongings in 1999. The recipe is dated around 1955 or 1956 when Marilyn was living in New York with her husband, playwright Arthur Miller.
The question, "Where did you get the recipe for this incredible stuffing?", can be answered with, "from Marilyn Monroe of course!"
For the Stuffing
No garlic
Sourdough
French bread – soak in cold water, wring out, then shred
For chicken giblets – boil in water 5-10 mins
Liver – heart then chop
1 whole or ½ onion, chop & parsley / four stalk celery, chop together following spices – put in rosemary
Thyme, bay leaf, oregano, poultry seasoning, salt, pepper,
Grated Parmesan cheese, 1 handful
1/2lb – 1/4lb ground round – put in frying pan – brown (no oil) then mix raisin 1 ½ cuops or more
1 cup chop nuts (walnuts, chestnuts, peanuts)
1 or 2 hard boiled eggs – chopped mix together
To Prep the Bird
Salt & pepper inside chicken or turkey – outside same and butter
Sew up clamp birds put chicken or turkey in 350 oven
Roasting chicken – 3or 4lbs or larger
Cooks 30 min to 1lbs
Brown chicken or pheasant (vinegar, oil, onion, spices) – let cook in own juice
Add little water as you go
½ glass vinegar – put in when half done
Cooks 2 hours
Put potatoes
Mushroom – button canned
Peas – fresh