Oh … Good Morning, Mr. Tyler. Getting Well … Soon? (UPDATED)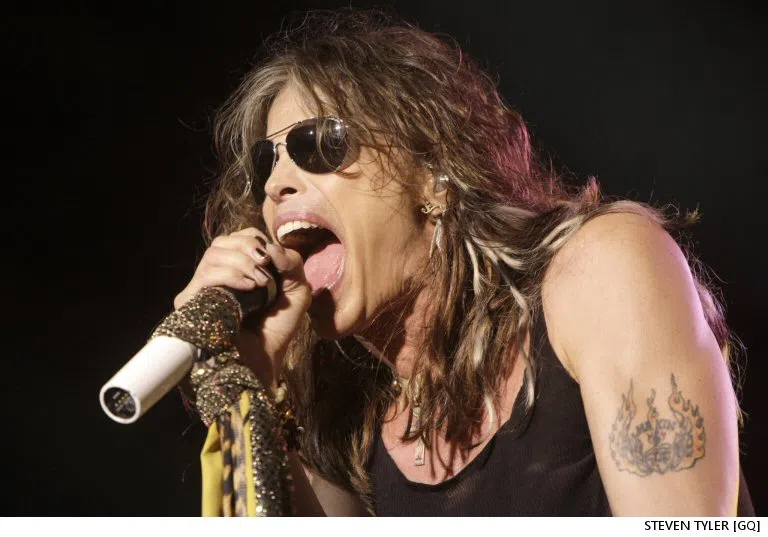 Aerosmith have pulled the plug on a few tour dates as Steven Tyler recovers from what are being referred to as unexpected medical issues.  A post on Tyler's Twitter account noted that he was "seeking immediate care and has been advised by his doctors that he cannot travel or perform at this time." After that post went live, the band cancelled the final four shows on the South American leg of their AeroVederci tour.
"Steven is expected to make a full recovery," the band said in media release.  "With proper rest and treatment he will be back on his feet soon, rocking the world."
As well, Tyler dropped a note to fans in the countries which saw cancellations.  "To everybody in South America – Brazil, Chile, Argentina and Mexico – I'm very sorry and feel like I've let you down," he wrote.  "I won't be able to continue the last four shows of this tour.  I flew back to the U.S. on doctor's orders last night after the show in São Paulo.  Please not to worry, I am not in a life-threatening condition, but I need to deal with this right away and get some rest and medical care immediately in order to sustain and maintain my future performances.  I promise I'll be back.  Unfortunately, health does not wait and it's something even I can't schedule around our shows.  As they say, 'We humans make plans, and God laughs.'  I love you all and will be back with you soon."
The Aerosmith camp is no stranger to health issues:  last summer, Joe Perry ended up in hospital after he collapsed onstage during a Hollywood Vampires show in Coney Island New York.  He seems to have weathered that storm, however — late last year, Joey Kramer said that Perry was "playing better than ever, in my opinion."
*UPDATE Thursday September 28:  The Boston Globe reports that sources close to the band have said that Tyler suffered a seizure after Aerosmith's show in Sao Paulo on Monday night, but the cause of the seizure is unknown.  Neither Tyler nor other band members have confirmed the report.
---
Love, Dr. Scott James

Subscribe to Scott's Now posts via RSS

Report A Typo