Sunrise Records Comes To Victoria, Rising From The Ashes Of HMV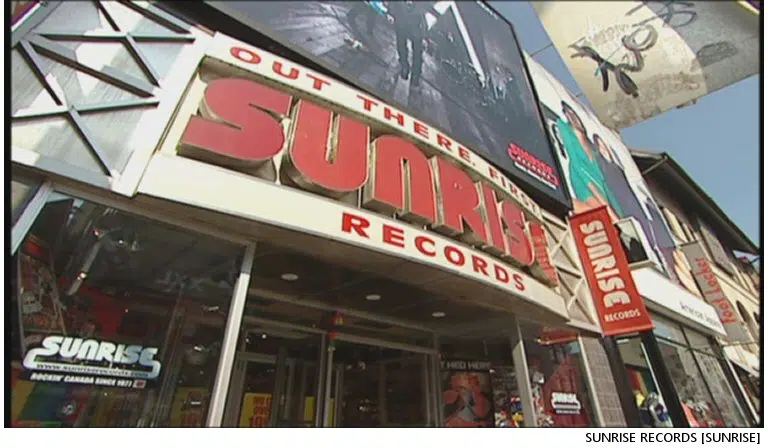 One door closes, another one opens.  The people at Sunrise Records are betting that there are enough brick-and-mortar music afficionados out there to make selling music in meatspace a viable proposition; the company is moving into the 70 retail spaces once occupied by HMV, which shut off the lights and boarded up the windows earlier this year.
One might be forgiven for thinking that this is a risky venture.  Compact disc sales fell 19 per cent to 12.3 million units last year, according to boffins at Nielsen Music Canada.  Meanwhile, on-demand audio streams showed dramatic growth, rising 203 per cent to 22 billion streams, helped by outfits like Apple Music and Spotify.  However, the Sunrise scheme is to not put as many eggs in a single basket:  as well as CDs and DVDs, they'll be selling music-related merchandise, board games, toys and pop culture apparel — and there will be an increased focus on vinyl.
The company will also continue its longstanding tradition of carrying music by local independent artists.  Says Sunrise president Doug Putnam, "We want to support independent Canadian artists more than ever.  We feel it's an obligation, not to mention we love discovering talented new artists."
Here in Victoria, Sunrise will be doing the grand opening thing Saturday September 30 and Sunday October 01 at their Mayfair Shopping Center location, offering up snacks, giveaways including limited edition merchandise and signed vinyl.  In conjunction with that, they've also announced their inaugural Local Artist Contest, which gives emerging artists the opportunity to have their music distributed nationwide via two-tiered contest, in which the grand prize is the winning band's/artist's music pressed on 500 LPs and 500 CDs, distribution services, a custom plaque, promotion via Sunrise channels and more.
You'll find more information about Sunrise Records right over this way.
---
Love, Dr. Scott James

Subscribe to Scott's Now posts via RSS

Report A Typo