Analog Polaroid OneStep Sweetness: It's Back, Baby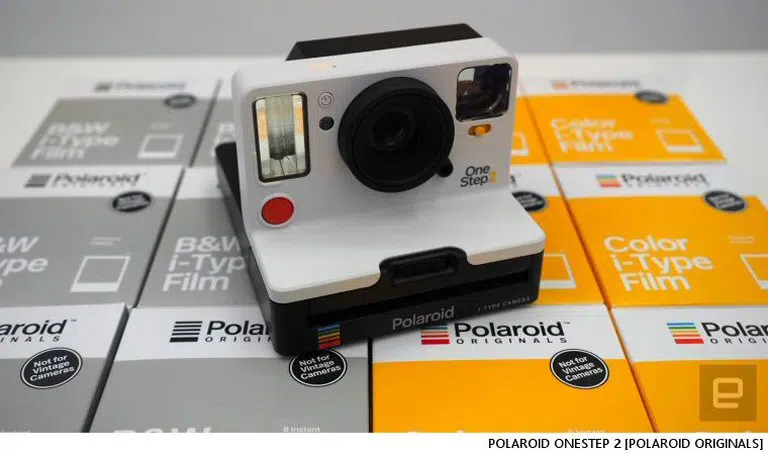 Move over, Hipstamatic™ and all of your analog-wannabe-but-still-digital cousins:  Polaroid has brought back the real deal.
For the past decade or so, an outfit by the name of The Impossible Project has been toiling to revive Polaroid photography, first by resurrecting instant film for vintage cameras, and later introducing a new contraption called the I-1.  Last May, Polaroid's brand and intellectual property was acquired by The Impossible Project's largest shareholder, and this month The Impossible Project was renamed Polaroid Originals.  The new company has now announced its second instant film camera, and it bears a moniker which will be familiar to anyone who spent time in the 70s and 80s waving pictures around in an effort to get them to develop faster:  the OneStep 2.
The original OneStep appeared in 1977; the updated model shares a lot of its design with a cream-colored plastic casing, a large red shutter release button, and of course the once-ubiquitous Polaroid rainbow stripe.  Modifications borrowed from the I-1 include a more open viewfinder and lights on the top of the housing which indicate how many shots you  have remaining in your film cartridge.
Each eight-shot pack contains Polaroid Originals' new film created for the OneStep 2, i-Type (I'm assuming Apple's attorneys either cleared that, or have yet to find out about it); this film is specifically optimized for the new camera, meaning that it won't work with your vintage model.  That's partly due to the fact that there's no battery in it; Polaroid cameras of yesteryear did not have internal batteries, instead drawing their power from small batteries embedded in their film packs, which increased the cost of said packs.  Speaking of which, the new film packs cost $16 each, so unless you have a swimming pool full of money, you won't want to be hitting that shutter button haphazardly at two bucks a pop.  If you have some 600 film lying about, that will also work with the OneStep 2.
The film is available in color and monochrome, and produces much the same kind of slightly (or not-so-slightly) imperfect prints as the original cameras.  This time around, though, shaking your picture won't make it develop any faster, so if you're firmly in the I Want It Right Freakin' Now camp, you may wish to give this camera a pass.
---
Love, Dr. Scott James

Subscribe to Scott's Now posts via RSS

Report A Typo