Foreigner Mull Original Lineup Reassembly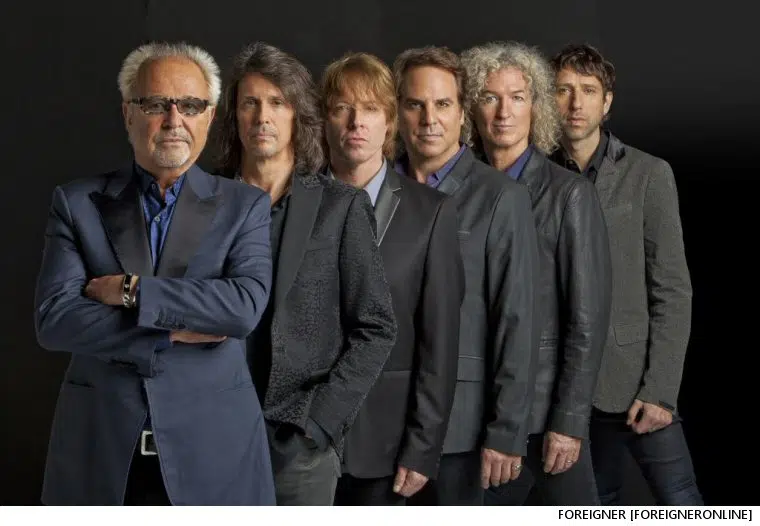 The original Foreigner lineup, together again?  Maybe.
On Thursday July 20, original lead vocalist Lou Gramm, multi-instrumentalist Ian McDonald and keys man Al Greenwood did a three-song encore with the current incarnation of Foreigner at Jones Beach in Wantagh New York.  The gig was the first appearance with Foreigner for McDonald and Greenwood since 1980, and Gramm's first singe 1993.  Drummer Dennis Elliott teamed up with Foreigner at a recent Tampa Show.  And now, Mick Jones says we might just see the original band together again.
Says Jones, "Oh, it's definitely crossed my mind.  I think it's something the fans would love.  It'd be interesting, the contrast of the two styles of the two bands.  I think it would be appealing.  It's not carved in whatever things are carved in, but the thoughts are flowing around.  But I'm still not quite sure how to forecast it."
Jones does say plans are afoot for the surviving original members and number two bassist Rick Wills, who stepped in in place of Ed Gagliardi, who died three years ago, to team up in Michigan this fall for a session which will be captured on video — although plans have not been cemented yet.
"One thing for sure is all the musicians are getting on very well together and it's just refreshing and we're really enjoying it," says Jones. "Lou is good, and he's kept his voice.  Al and Ian are playing the same as they did 40 years ago, basically, and it's a hoot.  It's great adrenaline and very enjoyable.  I think there's no bad apple anywhere in the whole thing, so I can't see any big problems."
He's also fired up about Foreigner's current 40th anniversary tour across North America this summer, on the heels of their springtime Europe jaunt.  "I have to say it's just wonderful," he says.  "It feels like the early '80s.  The crowds are flocking in everywhere.  Nearly everywhere's a sellout and people just want to be out there and have fun with us.  The party atmosphere is undeniable.  It feels like the old days back again, so it's going tremendously well.  I'm just so happy."
He says if everyone stays as fired up as they are, they might even end up hitting the studio to produce their first new music since 2009's Can't Slow Down.  "It just requires a bit of time to concentrate on writing, which I will have coming up early next year," he says.  "I've got a bunch of unfinished ideas and some ideas for song titles which I can throw around and see what we've got.  We're trying to put a schedule together that makes sense and try to see what we'll come up with."
---
Love, Dr. Scott James

Subscribe to Scott's Now posts via RSS

Report A Typo