Def Leppard's Hysteria — Def-Initely 30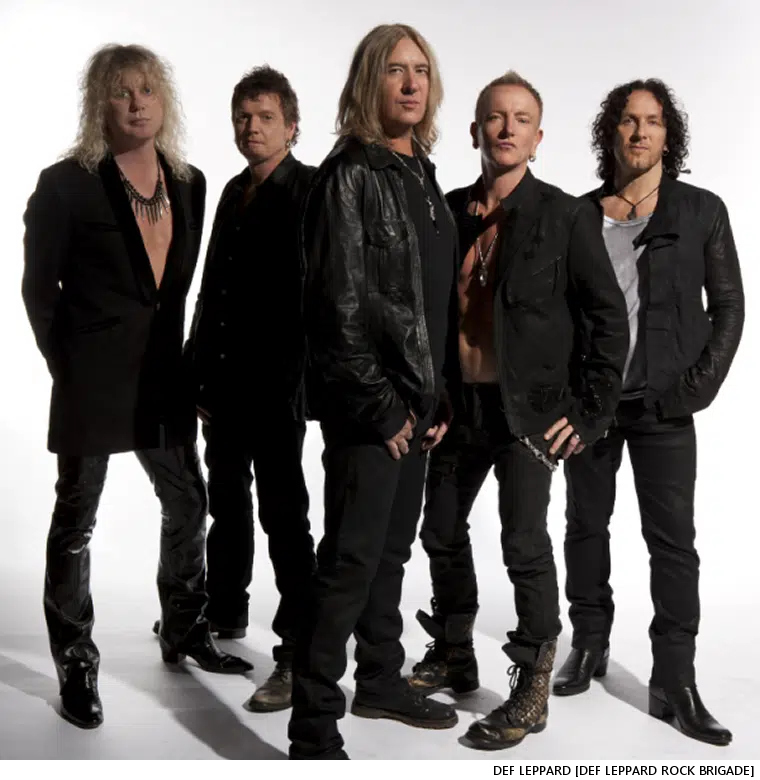 Thirty years ago today, Def Leppard unleashed their Hysteria album upon an unsuspecting world; it went on to become their most successful disc, shifting more than 25 million copies, coughing up seven hit singles, and helping cement their status as lords of 80s pop-metal.
As part of the celebrations marking today's anniversary, the members agreed to be a part of a so-called mini documentary which looks back on the often torturous three year process of making the album, and its cultural impact.  Parts one and two of  Step Inside: Hysteria At 30 are now available for your viewing pleasure, featuring about 20 minutes of archival footage and new band interviews, giving us a look behind the scenes.
Tomorrow, we'll see the release of a remastered and expanded 30th anniversary version of Hysteria in several different editions — everything from a basic remaster to a super deluxe seven-disc box set which carries a lot of bonus material.
Says lead hard of hearing Panthera Pardus Joe Elliott, "It's hard to believe that it's been 30 years since the release of Hysteria.  In some respects it really does seem like only yesterday.  So, to mark this milestone, we wanted to do something very special for our fans and give them the definitive version of the album, one that incorporates all of the memories and milestones that we caught on tape and some of the madness that we got up to on the road.  We hope it means as much to you as it does to us."
While all of this is going on, the band are still contemplating their next release.  During their current tour, Def Leppard guitarist Phil Collen told Daily Journal hacks that the next album could be coming as soon as 2018.  "We have some new songs.  We've had some new song ideas on the go, and after that we'll start recording," he said.  "You don't have to be in the studio to do it these days; you can get stuff down on your laptop as you go and tweak it like that.  That's exciting, we'll probably have an EP album for next year."
Hysteria 30th Anniversary Super Deluxe Edition track listing:
CD One (Remastered "Hysteria")
01. Women
02. Rocket
03. Animal
04. Love Bites
05. Pour Some Sugar On Me
06. Armageddon It
07. Gods Of War
08. Don't Shoot Shotgun
09. Run Riot
10. Hysteria
11. Excitable
12. Love And Affection
CD Two
01. Tear It Down (B-side)
02. I Wanna Be Your Hero (Retro Active)
03. Ride Into The Sun (Retro Active)
04. Ring Of Fire (B-Side)
05. Women (Radio Edit)
06. Rocket (Lunar Mix) (Radio Edit)
07. Love Bites (Radio Edit)
08. Hysteria (Radio Edit)
09. Pour Some Sugar on Me (Radio Edit)
10. Armageddon It (Radio Edit)
11. Release Me (Stumpus Maximus)
12. Classic Album – Hysteria (BBC Radio Documentary)
CD Three
01. Rocket (The Lunar Mix – Extended Version) (B-Side)
02. Armageddon It (The Nuclear Mix) (12″ Single)
03. Animal (Extended Version)
04. Pour Some Sugar On Me (Extended Version)
05. Excitable (The Orgasmic Mix) (B-Side)
06. Rocket (Lunar Mix) (B-Side)
07. Rock Of Ages (Live) (B-Side)
08. Love And Affection (Live) (B-Side)
09. Billy's Got A Gun (Live) (B-Side)
CD Four: "In The Round, In Your Face" (Live)
01. Stagefright
02. Rock! Rock! (Till You Drop)
03. Women
04. Too Late For Love
05. Hysteria
06. Gods Of War
07. Die Hard The Hunter
CD Five: "In The Round, In Your Face" (Live)
01. Bringin' On The Heartbreak
02. Foolin'
03. Armageddon It
04. Animal
05. Pour Some Sugar On Me
06. Phil Solo
07. Rock Of Ages
08. Photograph
DVD One
01. Rocket (Top Of The Pops)
02. Pour Some Sugar On Me (Top Of The Pops)
03. Animal (Top Of The Pops)
04. Pour Some Sugar On Me (Brit Awards)
05. Women (Promo Video)
06. Animal (Promo Video)
07. Pour Some Sugar On Me (Promo Video)
08. Pour Some Sugar On Me (U.S. Version Live)
09. Hysteria (Promo Video)
10. Love Bites (Promo Video)
11. Rocket (Promo Video)
12. Armageddon It (Live) (Promo Video)
DVD Two ("Classic Albums")
01. Introduction
02. Animal
03. Hysteria
04. Rocket
05. Love Bites
06. Pour Some Sugar On Me
Bonus Material
07. Initial Recordings Of Animal
08. Rick Gets Hysterical
09. Hysteria (Acoustic Performance)
10. Drumming – Return To The Status Quo
11. The Album According To Joe
12. Sugar Stripped Down
13. Pour Some Sugar On Me (Acoustic Performance)
14. Guitars, Guitars, Guitars
15. Windmill II And The Gods Of War
16. Mutt's Vocals In The Mix
17. The Album Is Finally Released
---
Love, Dr. Scott James

Subscribe to Scott's Now posts via RSS

Report A Typo